About Umekoji Locomotive Museum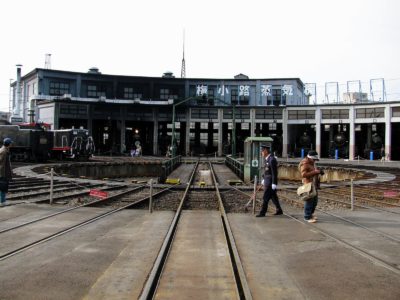 The Umekoji Locomotive Museum, which was in the corner of Umekoji Park until August 2015, consisted of "steam locomotive exhibition Hall" utilizing the fan type and turntable of the former Umekoji engine depot, and "Materials exhibition hall" reconstructed and restored the old Nijo station building.
The Steam Locomotive Exhibition Hall has been exposed to a lot of the real thing of the steam locomotive of nostalgia such as D-51, some were exhibited to put in the driver's room.
In addition, there are a lot of railroad models exhibited in the Material Exhibition pavilion, and it was made to run the model in the diorama of the railway model. However, it seems that children are playing, and it might not turn easily even if waiting.
The Umekoji Locomotive Museum was reopened in April 2016 as the Kyoto Railway Museum, including the exhibition of trains.
Moreover, the topic is called even in the thing that the aquarium was able to be in the same Umekoji park.
adsense2
Umekoji Locomotive Museum photos
▼Press any thumbnail, and you can see the photo gallery.
▼Tap any thumbnail, and you can see the photo gallery.
Photographer: Taisuke Yamada
Details
Location
〒600-8835
Kankiji-cho, Shimogyo-ku, Kyoto City, Kyoto (Kyoto Railway Museum)

Telephone
0570-080-462(10:00~17:30)
Entrance fee
Adults 1,200 yen, University and high school students 1,000 yen, Junior high school and elementary school students 500 yen, Infants (3 years and older) 200 yen
Usual viewing season
Plum and cherry trees are planted in Umekoji Park. (Cherry blossoms are at their best from late March to late April)
Access

JR
Approx. 20 min. walk west from Kyoto Station Central Exit

City bus
Take Line 205 or 208, get off at Umekoji Koen-mae bus stop, and walk about 3 minutes.
A short walk from Umekoji Koen/Kyoto Railway Museum-mae bus stop on the Express 103, Express 104, Express 110, Express 86, and Express 88 lines

Keihan Kyoto Kotsu Bus
Approximately 3 minutes walk from Umekoji Koen-mae bus stop on routes 2, 14, 15, 26, 26B, and 28A

Parking lot
Umekoji Park Omoiyari Parking Lot (fee-based, limited to use by the disabled/elderly/infants and toddlers/expectant and nursing mothers/injured/people with walking difficulties) 78 units of ordinary cars
Bicycle and motorcycle parking available
Site URL
https://www.kyotorailwaymuseum.jp/en/
Recommended places to visit in conjunction with

The Kyoto Aquarium is a new topic in Hichijoumekoji Park, and it is very crowded with children and students every day. Because there is no sea in Kyoto City, this facility which can touch the living thing of the sea is valuable.

Nishi Hongan-ji temple is simply referred to as the Honganji temple, and is the Honzan of Jodo Shinshu Hongan-ji Temple sect. Nishi Honganji is a common name, the official name is Ryukoku mountain Hongan-ji.

Toji is the head of Toji Shingon and is also called "Kyouougokokuji." Its upbringing is said to have been erected by Fujiwara-no-isendo in 796 after Heian-Kyo capital.