About Kenrokuen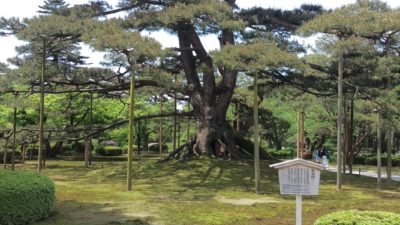 Kenrokuen is a vast Japanese garden with a migratory style called one of the three Japanese garden in Kanazawa City, Ishikawa Prefecture. Japanese three famous gardens are Kanazawa Kenrokuen, Mito Kairakuen, and Okayama Korakuen. Kenrokuen Garden has been formed by the successive feudal lords of the Kaga clan as the typical garden of the Edo period.
Kenrokuen is still one of the most popular tourist attractions in Kanazawa, and many people visit here. Especially, it seemed that there were a lot of tourists because it visited it during the big holidays this time. There are attractions throughout the year, with cherry blossoms (about 420) in spring, green trees in the summer, Autumn leaves (about 340 maples), and snow in winter, and the scenery of the four seasons can be enjoyed.
I was particularly impressed by the The lantern which has not been seen up to now, and the pine of a huge karasaki that the snow is hung to prevent the branch breaking in winter, Kasumi-ga-ike Pond, and Hisago-ike Pond, and etc.
In the park, there was the history museum Seisonkaku that Maeda Nariyasu, the 13th lord of the Kaga clan, was built as a retirement place for Shinryuin who is his mother. But unfortunately photography was prohibited.
In addition, there are a lot of Japanese teahouse to match the Japanese garden, so it would be a good memory to enjoy the tea and coffee at teahouse while admiring the garden.
The location is a little far from JR Kanazawa Station. It was about ten minutes away by bus. The adjacent Kanazawa Castle, the 21st Century Museum of Art in Kanazawa and the Ishikawa Prefectural Museum of Art are also close together, making it more enjoyable by strolling along.
adsense2
Kenrokuen photos
▼Press any thumbnail, and you can see the photo gallery.
▼Tap any thumbnail, and you can see the photo gallery.
Photographer: Hiroki Iwata
Details
Location
〒920-0937
1-1 Marunouchi, Kanazawa City, Ishikawa Prefecture

Telephone
TEL 076-234-3800
FAX 076-234-5292
E-mail
jyousi01@pref.ishikawa.lg.jp
Entrance fee
Adults (18 years and older) 310 yen
Child (6-18 years old) 100 yen
Usual viewing season

Cherry brossom(Approx.420 trees)
Early April – Mid-April
illuminated (with lights)

Red leaves(Approx.340 trees)
Mid-November – late November
illuminated (with lights)

Snow Hanging / Snow-covered
January (when there is snow)

Access

Scheduled bus
Kanazawa Station → Get off at Kenrokuen-shita → Kenrokuen Garden (Katsurazaka Exit)
Kanazawa Station → Get off at Kosaka Station → Kenrokuen Garden (Mayumizaka Exit)
Kanazawa Station→Dewa-machi alighting→Kenrokuen Garden (Odachino-guchi)

Kenrokuen Shuttle Bus
Retro Bus "Castle Town Kanazawa Round Trip", etc.

Car
Approximately 30 minutes from Kanazawa Nishi IC on Hokuriku Expressway.
Hokuriku Expressway Kanazawa Higashi IC, approx. 30 min.
Approximately 20 minutes from Kanazawa Morimoto IC on Hokuriku Expressway.

Parking lot

Kenroku Parking Lot 1-53, Kosho-machi, Kanazawa City TEL.076-263-1814
482 standard cars and 12 buses (including microbuses)

Hirozaka Kanko Bus Temporary Parking Lot 2-65-3, Hirozaka, Kanazawa City TEL.076-232-3542
20 buses (including microbuses)

Site URL
http://www.pref.ishikawa.jp/siro-niwa/kenrokuen/e/index.html
Recommended places to visit in conjunction with

JASDF Komatsu Airbase is the airbase of the Air Self-Defense Force, which was opened in 1961.