About JASDF Komatsu Airbase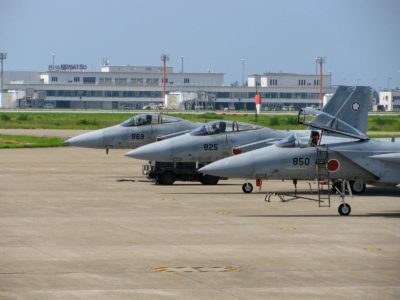 JASDF Komatsu Airbase is the airbase of the Air Self-Defense Force, which was opened in 1961.
Komatsu Airbase is the only combat aircraft unit located on the Japanese sea side, and they are committed to training day and night in order to defend against the sky in Japan country. The location of this place and the foreign countries separating the Sea of Japan is near and is about one hour away by the aircraft. The size of the role of Komatsu base is also known from this situation.
They are tasked with the airspace violation measures, and we are making scramble takeoff against aircrafts of unknown nationality.
When I took pictures of this place, F-15J that is fighter, T-4 that is training aircraft, UH-60J that is rescue helicopter, and U-125A that is twin‐engine aircraft were active.
adsense2
JASDF Komatsu Airbase photos
▼Press any thumbnail, and you can see the photo gallery.
▼Tap any thumbnail, and you can see the photo gallery.
Photographer: Taisuke Yamada
Details
Location
〒923-0961 267, Mukaimotoori-machi-bo, Komatsu City, Ishikawa

Telephone
0761-22-2101
Entrance fee
Free(a subscription basis)
Usual viewing time
Komatsu Air Base Air Festival (held every fall), etc.
Access

Open road
・5 minutes drive from Komatsu Airport
・10 minutes drive from JR Komatsu Station

Hokuriku Expressway
・5 minutes drive from Komatsu IC
・15 minutes drive from Katayamazu IC

Other
Please refer to the following URL for information on base tours. (by appointment only)
https://www.mod.go.jp/asdf/komatsu/5/third/51.html
Site URL
http://www.mod.go.jp/asdf/komatsu/
Recommended places to visit in conjunction with

The Maizuru Naval District was established in October 1888, then it developed as a naval base until the end of World War II. It reaches present as Maizuru District Corps of the Maritime Self Defense Force.