About Maizuru District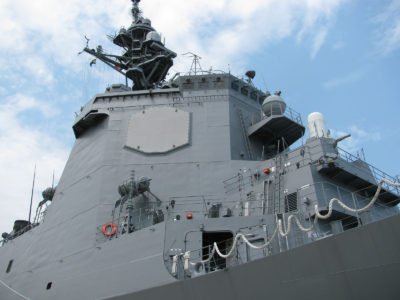 The Maizuru Naval District was established in October 1888, then it developed as a naval base until the end of World War II. It reaches present as Maizuru District Corps of the Maritime Self Defense Force.
Maizuru district corps can appreciate warships on ordinary guests on weekends, and some can watch the interior by boarding the ship.
Although it will not be imagined from the television screen etc., the actual ship (Aegis ship class etc.) is overwhelmed with about 10 meters in height. Also, Japanese warships generally are well maintained and are characterized by few ships with iron rust.
When I went shooting here, I have a memory that I watched here on Sunday and went to the Air Self Defense Force Komatsu Base on Monday the next day to watch fighter plane.
adsense2
Maizuru District photos
▼Press any thumbnail, and you can see the photo gallery.
▼Tap any thumbnail, and you can see the photo gallery.
Photographer: Taisuke Yamada
Details
Location
〒625-0080
1059 Koaza-Kitayado, Kitasui, Maizuru-shi, Kyoto

Telephone
TEL 0773-62-2250
Entrance fee
Free
Access

Car
・Get off at Maizuru-Higashi IC on Maizuru-Wakasa Expressway. 20 minutes on Route 27 toward Kyoto. 7 minutes on foot from the parking lot.
・Maizuru-Wakasa Expressway "Maizuru-Nishi IC" alighting, Route 27, 20 minutes toward Fukui, 7 minutes walk from the parking lot

JR
Get off at Higashi Maizuru Station and take the Kyoto Kotsu Bus, East-West Loop Line (leftward).
→ Get off at Dockyard stop (approx. 10 min. ride), 3 min. walk (Navy Memorial Hall)
→ Get off at SDF Pier stop (approx. 10 min. ride), 1 min. walk (Kitasui Pier)

Others
Tours available only on Saturdays, Sundays and holidays (tentative).
10:00 – 15:00
Site URL
http://www.mod.go.jp/msdf/maizuru/
Recommended places to visit in conjunction with

JASDF Komatsu Airbase is the airbase of the Air Self-Defense Force, which was opened in 1961.

Fukuchiyama Castle is located in the city of Fukuchiyama, Kyoto Prefecture. It was the residence of the Fukuchiyama clan in Edo period.