About Fukuchiyama Castle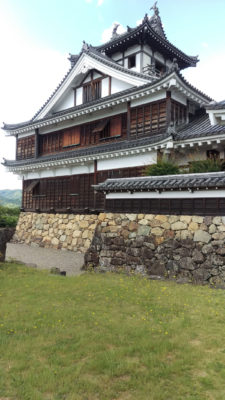 Fukuchiyama Castle is located in the city of Fukuchiyama, Kyoto Prefecture. It was the residence of the Fukuchiyama clan in Edo period. Hideyoshi Toyotomi and Mitsuhide Akechi attacked the Chugoku region by Nobunaga Oda's order. It is said that the Mitsuhide Akechi which attacked from the Sanin Road side pacified the Tamba country at that time, and the Fukuchiyama Castle in shape like the present was constructed.
It is now maintained as a Fukuchiyama Castle Park, and the Grand Tower of the triple third floor and the small tower of the double second floor were restored in 1986. Located in the foothills of the center of the Fukuchiyama Basin, it has an alias of Garyu Castle from its topography.
The interior of the large castle tower is a permanent exhibition hall of the Fukuchiyama Local museum, and the small castle tower is a special exhibition hall, and heritage from Mitsuhide Akechi to Mr. Kuchiki is on display.
adsense2
Fukuchiyama Castle photos
▼Press any thumbnail, and you can see the photo gallery.
▼Tap any thumbnail, and you can see the photo gallery.
Photographer: Hiroki Iwata
Details
Location
〒620-0035
5 Uchiki, Fukuchiyama City, Kyoto, Japan

Telephone
0773-23-9564
Entrance fee
Adults 320 yen, Elementary and junior high school students 100 yen
Usual viewing season

Cherry(Approx. 30 trees)
Early to mid April

Red leaves
Mid to late November

Access

JR
15-minute walk from Fukuchiyama Station on the Fukuchiyama Line

Kyoto Tango Railway
15-minute walk from Fukuchiyama Station on the Miyafuku Line

Car
(Fukuchiyama IC on Maizuru-Wakasa Expressway) → Route 9 → Kyoto Prefectural Road 55

Parking lot
60 cars (free of charge)
Site URL
https://www.fukuchiyamacastle.jp/
Recommended places to visit in conjunction with

Nijo Castle is a castle that was built in the Edo period, and the one that remains now is the one erected by Mr. Tokugawa. It is the beginning and end of the Edo period, with the celebratory ceremony of Ieyasu Tokugawa's Shogun Senge, and the Yoshinobu Tokugawa of restoration rule of the Tokugawa Imperial.

The beginning of Fushimi Castle (Fushimimomoyamajou) was that he built in Fushimi Shigetsu in August 1592 after Toyotomi Hideyoshi began sending troops to Korea (battle of bunroku).

The Maizuru Naval District was established in October 1888, then it developed as a naval base until the end of World War II. It reaches present as Maizuru District Corps of the Maritime Self Defense Force.