About Fushimimomoyama Catsle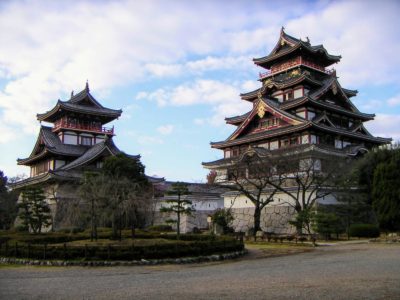 The beginning of Fushimi Castle (Fushimimomoyamajou) was that he built in Fushimi Shigetsu in August 1592 after Toyotomi Hideyoshi began sending troops to Korea (battle of bunroku).
Although the Fushimi Castle collapsed by the Keicho Fushimi earthquake immediately after completion, and rebuilt by changing the place to Kobata Mountain, the majority of the catsle building was burnt down in the Battle of Sekigahara. After that, it was rebuilt by Tokugawa Ieyasu, and it was made to the abolition castle in 1619.
The existing castle tower is the one that was imitation as a specialty of the amusement park "Fushimi Momoyama Castle Land", and is bestowed to Kyoto City after the park is closed then it remains until now.
The castle tower has been moved to a different location because it is used as the Meiji Emperor Crest. In addition, because the building does not meet the seismic strength, it is not possible to tour the inside of the castle tower.
adsense2
Fushimimomoyama Catsle photos
▼Press any thumbnail, and you can see the photo gallery.
▼Tap any thumbnail, and you can see the photo gallery.
Photographer: Taisuke Yamada
Details
Location
〒612-0853
45 Okura, Momoyama-cho, Fushimi-ku, Kyoto-shi, Kyoto

Telephone
TEL 075-602-0605
Entrance fee
Free (not allowed inside the castle)
Usual viewing season

Cherry
End of March – Early April

Red leaves
Mid to late November

Access

15-minute walk from Momoyama Station on the JR Nara Line

15 minutes walk east from Tanbabashi Station (Keihan/Kintetsu) or Momoyama-Goryomae Station (Kintetsu).

Car
Approximately 15 minutes on Route 24 from the Kyoto Minami IC of the Meishin Expressway
Approx. 10 min. from Yoko-oji, National Route 1 via Outer Ring Road

Parking lot
Paid parking available at Fushimi-Momoyama Castle Athletic Park
Site URL
https://ja.wikipedia.org/wiki/%E4%BC%8F%E8%A6%8B%E5%9F%8E
Recommended places to visit in conjunction with

The Grand Shrine of "Inari-san", which exists all over the country, is Fushimi Inari Taisha. The history dates back to 711 in the Nara period. Fushimi Inari Taisha Shrine has a main hall at the foot of Inari Mountain, and the entire Inariyama is the site.

Byodo-in is a deeply related temple with Mr. Fujiwara in Uji City, Kyoto Prefecture. Since the 17th century, sects combined as Tendai Buddhism and Jodo sect, and now they do not belong to a specific denomination.