About Ota Shrine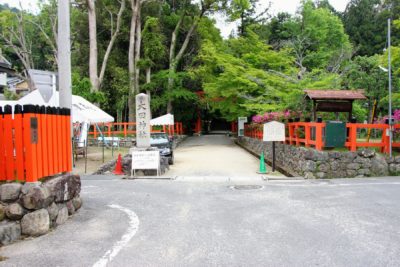 The Ota shrine is a shrine in Kamigamo, Kita-ku, Kyoto, and a Sessha outside the border of Kamigamo shrine. The place is located about 500 meters east of the Kamigamo shrine. Matsuri is Ame-uzume-no-mikoto, who is said to have shown off the dance to pull Amaterasu-omikami out of Ame-no-iwato.
Four Setsumatsusha of Shirahige-sha, Hyakudayu-sha, Chinju-sha, and Fukutoku-sha are enshrined in the precincts of the main shrine.
There is a big swamp called "Ota-no-Sawa" on the side of the approach, and about 25,000 rabbitear iris there grow wild. The best season for this rabbitear iris is usually from early to mid May. (However, the season will be around depending on the climate of the year.) This marsh seems to have been the showplace of Rabbitear Iris for a long time, and the following Japanese poem is also written in the Heian era.
Kouyama-ya Ota-no-sawano Kakitsubata Fukaki-tanomi-wa Iro-ni-miyuramu Fujiwara-no-Toshinari
At present, this rabbitear iris is designated as a National Natural monument.
In recent years, the appreciation of this rabbitear Iris community has been charged (300 yen admission), many people come to shoot rabbitear iris with a camera even now. However, there is no parking lot in the Ota shrine, and if you come by car, you have to park in the parking lot of the Kamigamo shrine. There seems to be some parking space for two wheels.
As of May, 2018, the main shrine is in a state that cannot be visited during restoration work, so please be aware of those who will be visiting.
adsense2
Ota Shrine photos
▼Press any thumbnail, and you can see the photo gallery.
▼Tap any thumbnail, and you can see the photo gallery.
Photographer: Taisuke Yamada
Details
Location
〒603-8047
340, Kamigamo Motoyama, Kita-ku, Kyoto-shi, Kyoto

Telephone
075-781-0011
Entrance fee
free admission for worship
[garden of Japanese iris]
300 yen
Usual viewing season
Japanese iris
Early-mid May
Access
City bus
Take routes 4, 46, or 67, get off at Kamigamo Jinja-mae bus stop, and walk about 10 minutes.
Parking lot
None, Kamigamo Shrine
Site URL
http://www.kamigamojinja.jp/topics/2011/2011_kakitsubata.html
Recommended places to visit in conjunction with

Kamigamo Shrine is formally called Kamobetsurai Shrine, and is located in Kamigamo, Kita-ku, Kyoto-city. It is registered as a UNESCO World cultural heritage and attracts attention.

The Kyoto Botanical Garden opened in 1924 as the first public botanical garden in Japan. It is located along the Kamo River in Shimogamo, Sakyo-ku, Kyoto.