About Daitokuji Temple Kotoin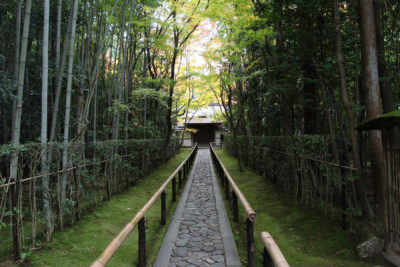 The Daitokuji Temple in Murasakino, Kita-ku, Kyoto, is a temple that has many temples standing on its premises.(sub-temple) Kotoin is one of them, and only four of Daitokuji's sub-temple are open to the public on a regular basis.
The beginning of the Daitoku temple Kotoin dates back to the Warring States era, Tadaoki Hosokawa has been erected in 1602 for Fujitaka Hosokawa, who is his father.
This time, I visited on the autumn foliage season. This temple is very beautifully manicured, such as moss, pine and autumnal leaves of Japanese style garden. The Moss garden with a stepping stone in the main hall can be freely explored. It is made to be able to fully enjoy the garden. This is a temple with a feeling that looks very good when you visit in kimono.
At the back of the Japanese style garden, there is the Kasuga lantern, which is the tomb of Tadaoki Hosokawa and Mrs. Garasha.
The staple souvenir of Daitoku temple is Daitoku temple Ikkyu's Daitoku temple Natto in front of the gate.
adsense2
Daitokuji Temple Kotoin photos
▼Press any thumbnail, and you can see the photo gallery.
▼Tap any thumbnail, and you can see the photo gallery.
Photographer: Taisuke Yamada
Details
Location
〒603-8231 73-1 Daitokuji-cho, Murasakino, Kita-ku, Kyoto-shi, Kyoto

Telephone
TEL 075-492-0068
Entrance fee
High school students and older: 400 yen, junior high school students: 300 yen, children: 200 yen
Usual viewing season
Red leaves
Late November – Early December
Access
City bus
1, 12, 204, 205, MN205, MN204, 206, Kita 8, M1, 101 Raku Bus, 102 Raku Bus, "Daitokuji-mae", "Kenkunjinja-mae" stop, 5 minutes walk
Parking lot
Use of Daitokuji Temple parking lot
2,000 yen for 20 buses, 500 yen for 50 private cars
Recommended places to visit in conjunction with

Imamiya Shrine is a shrine in Murasakino, Kita-ku, Kyoto. Also known as the Shrine of marry into a wealthy family. There are two Meibutsu grilled Mochi shop on the doorstep of the shrine's West Gate.

Kenkun Shrine (Takeisaojinja) is a somewhat smaller shrine on the Funaoka mountainside, Kita-ku, Kyoto. It is a shrine that is enshrined Oda Nobunaga. In general, it is called "Kenkunjinja".

It is in the place where the municipal subway is descended at Kuramaguchi station and it enters the east a little. Although it is located in the city, it has a sense of healing like an urban oasis.