About Kamigoryo Shrine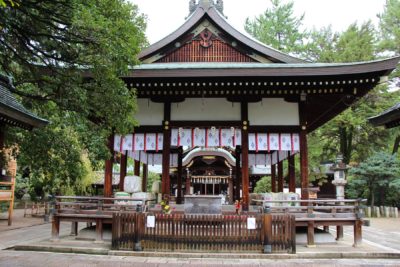 Kamigoryo Shrine is a shrine in Kamigyo-ku, Kyoto. Its history begins in 863, the age of Emperor Kanmu.
It is in the place where the municipal subway is descended at Kuramaguchi station and it enters the east a little. Although it is located in the city, it has a sense of healing like an urban oasis.
Although the site is not so wide as it is a shrine in urban areas, there is a shrine like a reduced version of a thousand Torii of Fushimiinari shrine, and there are old trees like the Tadasu Forest of the Shimogamo shrine. It is a shrine that condensed the goodness of various shrines like these.
adsense2
Kamigoryo Shrine photos
▼Press any thumbnail, and you can see the photo gallery.
▼Tap any thumbnail, and you can see the photo gallery.
Photographer: Taisuke Yamada
Details
Location
〒602-0000
495 Kamigoryotate-cho, Kamigoryomae-dori Karasuma Higashi-iru, Kamigyo-ku, Kyoto-shi, Kyoto

Telephone
TEL 075-441-2260
FAX 075-441-6066
Entrance fee
Free
Usual viewing season
Ichihatsu
Late April – early May
Access

Subway
3 minutes walk from Kuramaguchi Station on the Karasuma Line

City bus
400m west of Izumoji Tawara-cho stop on Route 37

Parking lot
Free for 10 private cars
Site URL
http://www.kyoto-jinjacho.or.jp/shrine/02/004/
Recommended places to visit in conjunction with

Shimogoryo shrine was erected together with Kamigoryo shrine during the Heian period. It is revered as a shrine to protect the imperial court and the capital by fleeing the plague disaster.

The Shimogamo Shrine is officially called the Kamomiso Shrine. The registration of UNESCO's World Heritage has raised the profile. It is said that it is a shrine honoring the god of the ancient clans Kamo, along with Kamigamo shrine(Kamobetsurai shrine). The south side of the shrine is a native forest called Tadasuno forest, with old trees.

The Kyoto Imperial Palace is called "Gosho" by the neighboring residents and is popular. From the 14th century to the early Meiji period, this is the place where successive emperors lived, priest rituals and public service.