About Shimogamo Shrine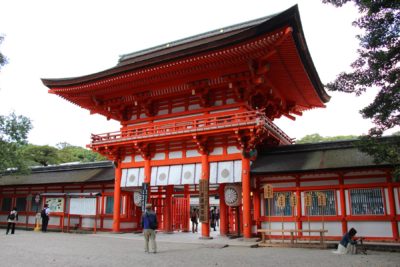 The Shimogamo Shrine is officially called the Kamomiso Shrine. The registration of UNESCO's World Heritage has raised the profile. It is said that it is a shrine honoring the god of the ancient clans Kamo, along with Kamigamo shrine(Kamobetsurai shrine). The south side of the shrine is a native forest called Tadasuno forest, with old trees.
There is a Aioi shrine where the god of the marriage is enshrined in the Shimogamo shrine, and a lot of visitors always visit here. The Shimogamo shrine was also famous as a wedding hall in the local area, and my cousin married couple and a couple of friends also cited the wedding ceremony here.
Throughout the year, Yabusame on May 3, Aoi festival on May 15
, various rituals such as the Mitarashi festival, which take place around the ox of Doyo in the summer, are performed. There is also a regular book festival on the grounds of Tadasuno forest, it is crowded by neighboring people.
As a resting place at the time of worship, there is a saruya of a stylish atmosphere in the precincts, and there is Kamo Mitarashi Chaya which is the shop of the famous Mitarashi dumpling which is opposite side of the Shimogamo main street which separates the shrine West Gate.
adsense2
Shimogamo Shrine photos
▼Press any thumbnail, and you can see the photo gallery.
▼Tap any thumbnail, and you can see the photo gallery.
Photographer: Taisuke Yamada
Details
Location
〒606-0807
59 Shimogamo-Izumikawa-cho, Sakyo-ku, Kyoto-shi, Kyoto

Telephone
TEL 075-781-0010
E-mail
info@shimogamo-jinja.or.jp
Entrance fee
Free
Usual viewing season

Yabusame (horseback archery) ritual
May 3

Aoi festival
May 15(Postponed in case of rain)

Red leaves
Early to late December

Access

Subway
Get off at Kitaoji Station on the Karasuma Line, transfer to City Bus No. 1 or 205 and get off at Shimogamo-jinja-mae or Tadasunomori-mae.

City bus
Take No. 4 or 205 to Shimogamo-jinja-mae or Tadasunomori-mae bus stop.

Keihan
Get off at "Demachiyanagi" station and walk 12 minutes.

Parking lot
300 passenger cars (200 yen for 30 minutes)
20 large buses (2,000 yen per hour)
サイトURL
http://www.shimogamo-jinja.or.jp/english/
Recommended places to visit in conjunction with

The Kawai shrine is a shrine on the grounds of the Shimogamo shrine. This is a shrine of women's patron, and there are many female worshippers.

This is Old Mitsui family Shimogamo villa that has begun to be opened to the public from October 2016. It is located at south of Shimogamo-shrine, and a bit north of Demachi-yanagi.

The Kyoto Botanical Garden opened in 1924 as the first public botanical garden in Japan. It is located along the Kamo River in Shimogamo, Sakyo-ku, Kyoto.