About Old Mitsui family Shimogamo villa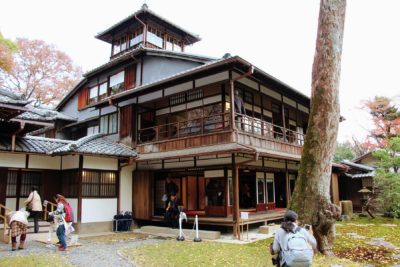 This is Old Mitsui family Shimogamo villa that has begun to be opened to the public from October 2016. It is located at south of Shimogamo-shrine, and a bit north of Demachi-yanagi.
There is a small bike parking space at entrance. After I waited for my turn for a while, I entered into villa while being guided by a tour guide, and see inside of the villa.
This villa was built by Mitsui Hachiroemon Takamine who was the 10th generation and one of north Mitsui family as Mitsui family's 11th villa, and it was built in 1925. That is three story of forward wooden construction, a main house which has wide garden and pond like a temple and the house that I see the view of Kyoto Rakuhoku from the third floor and where was provided with every possible luxury as those days.
Additionally, special high charge was needed for This Villa in the season of colored leaves, and I think that you had better check the homepage and so on. Old person, and person with disabilities had better go there in the season besides the season of colored leaves. But in the season besides the season of colored leaves you are not allowed to climb 3rd floor. (Photography is prohibited on 3rd floor.)
adsense2
Old Mitsui family Shimogamo villa photos
▼Press any thumbnail, and you can see the photo gallery.
▼Tap any thumbnail, and you can see the photo gallery.
Photographer: Taisuke Yamada
Details
Location
〒606-0801
58-2 Shimogamo-Miyagawacho, Sakyo-ku, Kyoto-shi, Kyoto

Telephone
075-366-4321
Entrance fee
Adults 500 yen, junior high and high school students 300 yen, elementary school students 200 yen
Usual viewing season
Red leaves
Around late November
Access

City bus
Take routes 1, 37, or 205, get off at Aoi-bashi Nishizume bus stop, and walk about 5 minutes.
Take routes 1, 3, 4, 17, 201, 203, 102 to Demachiyanagi Ekimae and walk 5 minutes.

Keihan Electric Railway and Eizan Electric Railway
5 minutes walk from "Demachiyanagi" station.

Parking lot
None
Site URL
https://www.mitsuipr.com/sights/historic-places/10/
Recommended places to visit in conjunction with

The Kawai shrine is a shrine on the grounds of the Shimogamo shrine. This is a shrine of women's patron, and there are many female worshippers.

The Shimogamo Shrine is officially called the Kamomiso Shrine. The registration of UNESCO's World Heritage has raised the profile. It is said that it is a shrine honoring the god of the ancient clans Kamo, along with Kamigamo shrine(Kamobetsurai shrine). The south side of the shrine is a native forest called Tadasuno forest, with old trees.

The Kyoto Imperial Palace is called "Gosho" by the neighboring residents and is popular. From the 14th century to the early Meiji period, this is the place where successive emperors lived, priest rituals and public service.