About Kyoto Imperial Palace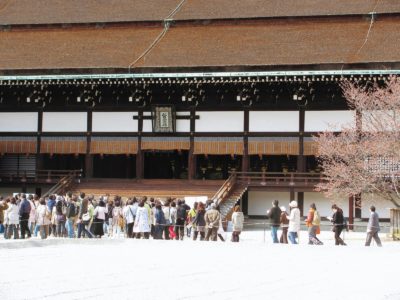 The Kyoto Imperial Palace is called "Gosho" by the neighboring residents and is popular. From the 14th century to the early Meiji period, this is the place where successive emperors lived, priest rituals and public service. Even today, buildings are left intact. Since the Meiji era, it is also called Kyoto Palaces.
Imperial Palace at the time of Heian Capital was on Senbon Street in the west than Kyoto Imperial Palace today. It was settled in the today place as the location of the Imperial Palace in the North dynasty side in the later Nanbokucho age, and after the unification of the Southern dynasty and the North Dynasty, this place became a formal imperial palace.
The site of Kyoto Gyoen, which surrounds the Kyoto Imperial Palace, is planted in various places with plums, cherry blossoms and pine trees, and it is now used as a park for citizens and tourists. Kyoto Gyoen is suitable as a walk road, but it is not suitable for cycling because the entire area is gravel-paved. Also, when you visit the cherry blossom season, it is a place to show the atmosphere as a tourist destination.
The Kyoto Imperial Palace is now open to the public throughout the year, so you can watch the imperial household and the collection when you visit. The admission fee is free, so I think it's a good spot to visit now.
adsense2
Kyoto Imperial Palace photos
▼Press any thumbnail, and you can see the photo gallery.
▼Tap any thumbnail, and you can see the photo gallery.
Photographer: Taisuke Yamada
Details
Location
〒602-0881
3 Kyoto Gyoen, Kamigyo-ku, Kyoto-shi, Kyoto

Telephone
TEL 075-211-1215
Entrance fee
Free
Usual viewing season

Plum(200 trees)
Mid February – Mid March

Peach (70 trees)
Mid March – Mid April

Cherry(1000 trees)
Late March – Early April

Red leaves
Late November – Mid December

Access

Subway Karasuma Line
Get off at "Imadegawa" station and walk 5 minutes.

City bus
Get off at "Karasuma Imadegawa" and walk 5 minutes.

Parking lot

Seiwa-in East Parking Lot (fee required)
80 passenger cars

Nakatachiuri Nishi Parking Lot (fee required)
8 buses, 120 passenger cars

Site URL
https://sankan.kunaicho.go.jp/english/index.html
Recommended places to visit in conjunction with

Nashinoki Shrine is a shrine in Kamigyo-ku, Kyoto. The beginning of it's history was built in 1885 in the ruins of the house of the Sanjo family.

It is in the place where the municipal subway is descended at Kuramaguchi station and it enters the east a little. Although it is located in the city, it has a sense of healing like an urban oasis.

Shimogoryo shrine was erected together with Kamigoryo shrine during the Heian period. It is revered as a shrine to protect the imperial court and the capital by fleeing the plague disaster.