About Matsugasaki Canal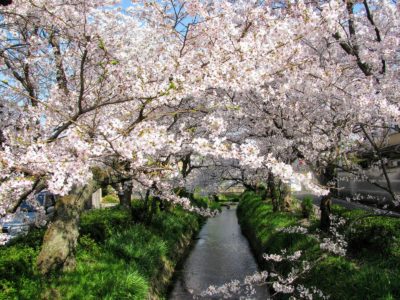 Matsugasaki Canal (aka: Sosui) flows along the Shirakawa Canal road leading to the Kamo River in the Matsugasaki water purification plant and the south of the Botanical Garden on the West Bank of the Takano River. A lot of cherry blossoms are planted in this section, and it is possible to appreciate beautiful cherry trees in spring. Also, many cherry trees are planted along the Takano River on the east side of the Matsugasaki water purification plant, and you can also watch them together.
The cherry blossoms in this area have been known to be a place for hanami of local residents who boast high land prices in Kyoto city, but in recent years, as a hanami spot, tourists come to see the sight of cherry blossoms from afar, and you can also see the sight of the rickshaw for Hanami. However, it is not a commercial area, so there are no resting places or shops for tourists.
The flowering time of cherry blossoms seems to be around the middle of April from the beginning of April.(By the climate of that year.)
adsense2
Matsugasaki Canal photos
▼Press any thumbnail, and you can see the photo gallery.
▼Tap any thumbnail, and you can see the photo gallery.
Photographer: Taisuke Yamada
Details
Location
〒606-0901 Around Matsukezaki-Higashi Sakuragi-cho, Sakyo-ku, Kyoto City, Kyoto

Usual viewing season
Cherry
Early April
Access
City bus
・Take the 65, 204, MN204, 206, or Kita 8 line, get off at Takagi-cho, and walk northeast for 10 minutes.
・Take No. 1, 204, MN204, 205, 206, or Kita 8, get off at "Botanical Garden-mae" bus stop, and walk south for 5 minutes.
Parking lot
None
Recommended places to visit in conjunction with

The Kyoto Botanical Garden opened in 1924 as the first public botanical garden in Japan. It is located along the Kamo River in Shimogamo, Sakyo-ku, Kyoto.

Ichijoji ramen road is introduced after a local people actually eat ramen along the ramen road. Ichijoji Ramen map also posted. The intersection of Kitaoji street and Higashioji street (Takano) to the north, the area is called the Ichijoji Ramen Road, and the area is known as the best battleground of ramen shops in Kyoto.

The Shimogamo Shrine is officially called the Kamomiso Shrine. The registration of UNESCO's World Heritage has raised the profile. It is said that it is a shrine honoring the god of the ancient clans Kamo, along with Kamigamo shrine(Kamobetsurai shrine). The south side of the shrine is a native forest called Tadasuno forest, with old trees.