About Shingu Shrine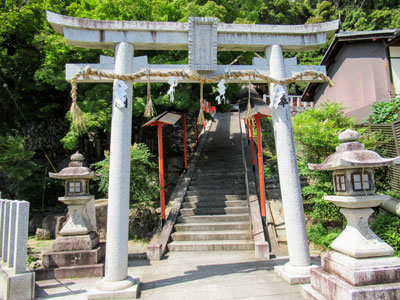 Shingu Shrine is Shinto god of Matsugasaki. Originally, it was named as "Daihieidaimyojin" in 1306 (Tokuji 1) when whole the village converted to Nichiren sect, it enshrined both Lotus Sutra and "Mandara" that was written Nichizo saint in person and after that a monk in Myosenji temple worshipped it as chinjusha of Myosenji temple. Due to abolition of Buddhism and destroying of Shakamuni and separation of God and Buddha in Meiji revolution, it renamed its name as "Shirohige shrine" departing from Myosenji temple, and in 1887 (Meiji 20) it renamed as "Shingu Shrine" and it has been called so up to now.
Annual festival and fire-burning festival is conducted on October 23 and December 8 respectively.
Shingu Shrine is a small shrine that is at the end point of the former Matsugasaki Street. There is a small Noh stage in its precincts. As it's on a little higher place, we can view the cities from Kitayama.
adsense2
Shingu Shrine photos
▼Press any thumbnail, and you can see the photo gallery.
▼Tap any thumbnail, and you can see the photo gallery.
Photographer: Taisuke Yamada
adsense2
Details
Location
〒606-0925
34, Matsugazaki Hayashiyama, Sakyo-ku, Kyoto-shi, Kyoto

電話番号
TEL 075-791-0191
拝観料
無料
交通アクセス
Subway Karasuma line "Matsugasaki" station, 3 min. walk
Approx. 3 minutes walk from "Shugakuin" station of Eizan Electric Railway
Take City Bus No. 65 or Kita 8, get off at Matsugasakibashi Station, and walk about 4 minutes.
Take Kyoto Bus No. 56 to Matsugasakibashi Station. 4 minutes walk from the bus stop.
Parking lot
None
サイトURL
https://www.facebook.com/新宮神社-160382207360964/
Recommended places to visit in conjunction with

Yusenji temple is a temple of Nichiren sect located in Kyoto city Sakyo district Matsugasaki. Its mountain title is Shosaki-zan.

Matsugasaki Daikokuten (Myoenji temple) is a Nichiren sect temple located in the northern back of Kyoto Rakunai and in the middle of the mountain of "Ho" of Gozan no Okuribi.

The Takagaike Park is located at near the International Hall of the Municipal subway station and a 15-minute walk to the south. There is a small parking lot, so it is convenient to stop by on the drive.