About Shosaki-zan Yusenji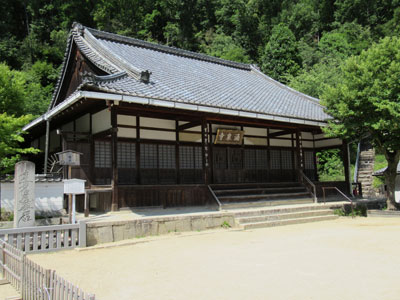 Yusenji temple is a temple of Nichiren sect located in Kyoto city Sakyo district Matsugasaki. Its mountain title is Shosaki-zan.
Yusenji is one of the oldest temples as Nichiren sect temples, and it is said that the temple is derived from Matsusaki temple (Enmei temple) which was built in Heian era. It is a Nichiren sect temple which was established with both temples' name combined after the merger of Myosenji temple of the same Nichiren sect being in Matsugasaki village and Honyuji temple.
It is known for the temple that lit the letter of "Myo" among the letters of Gozan no Okuribi originated in Edo era, and it is also the temple of the origin of Daimoku Odori dance.
adsense2
Shosaki-zan Yusenji photos
▼Press any thumbnail, and you can see the photo gallery.
▼Tap any thumbnail, and you can see the photo gallery.
Photographer: Taisuke Yamada
adsense2
Details
Location
〒606-0945
53 Matsugasaki Horicho, Sakyo-ku, Kyoto-shi, Kyoto

Telephone
TEL 075-722-1810
Entrance fee
Free(No viewing inside the hall)
Access
10-minute walk from Matsugasaki Station on the Subway Karasuma Line
10-minute walk from Shugakuin Station on the Eizan Electric Railway
Parking lot
Yes
Site URL
http://www.yusenji.com/
Recommended places to visit in conjunction with

Matsugasaki Daikokuten (Myoenji temple) is a Nichiren sect temple located in the northern back of Kyoto Rakunai and in the middle of the mountain of "Ho" of Gozan no Okuribi.

Shingu Shrine is a small shrine located at the end of the old Matsukazaki Highway. There is a small Noh stage in the precincts of the shrine. It is also located on a small hill, offering a panoramic view of the city from Kitayama.

The Takagaike Park is located at near the International Hall of the Municipal subway station and a 15-minute walk to the south. There is a small parking lot, so it is convenient to stop by on the drive.