About Takaragaike Park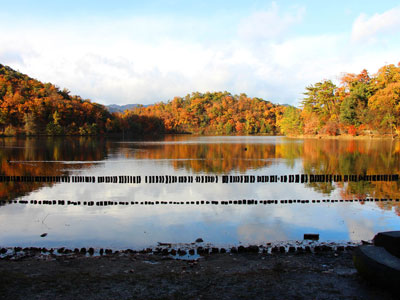 The Takagaike Park is located at near the International Hall of the Municipal subway station and a 15-minute walk to the south. There is a small parking lot, so it is convenient to stop by on the drive.
The pond that duck, wild duck and carp abound are the walking trails around the area, because there is also a rental boat, I think that it is the best for the date spot. If you walk east from here, there is a park called children's Paradise. A lot of playground equipment is prepared here, and it seems to be able to use it as a playground of the child.
In addition, small fireworks may be launched when guests arrive at the adjacent International conference hall.
adsense2
Takaragaike Park photos
▼Press any thumbnail, and you can see the photo gallery.
▼Tap any thumbnail, and you can see the photo gallery.
Photographer: Taisuke Yamada
Details
Location
〒606-0934
Matsugasaki Kitsunezaka, Sakyo-ku, Kyoto-shi, Kyoto

Telephone
075-781-3010
Entrance fee
Free
Usual viewing season

Cherry Blossom Forest
Late March – early April

Red leaves
Around mid-November

Access

Subway
15 minutes on foot from Exit 5 of Kokusaikaikaikan Station on the Karasuma Line

Eizan Railway
5 minutes walk from Takaragaike Station

Parking lot

Takaragaike Park
Parking lot available, toll parking
Bicycle parking space available

Children's Paradise
Usually 102 cars, temporarily 69 cars (171 cars in total)
510 yen/1 time
9:00 – 16:30

Site URL
http://www.city.kyoto.lg.jp/kensetu/page/0000082746.html
Recommended places to visit in conjunction with

Ichijoji ramen road is introduced after a local people actually eat ramen along the ramen road. Ichijoji Ramen map also posted. The intersection of Kitaoji street and Higashioji street (Takano) to the north, the area is called the Ichijoji Ramen Road, and the area is known as the best battleground of ramen shops in Kyoto.

Kifune shrine is a shrine that has been praying for the god of rain for a long while, and is gathering faith from people in the business of dealing with cooking and water all over the country as God of water.

It is this big Kurama tengu to greet us when getting off the Eiden Kurama station. Niomon that is the entrance of Kurama Temple exist in the place that climbing a little from here on road, from there it become a course of a little mountain climbing and hiking.