About Kifune Shrine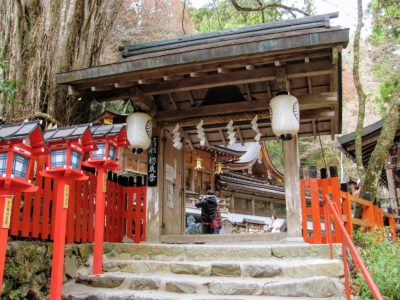 Kifune shrine is a shrine that has been praying for the god of rain for a long while, and is gathering faith from people in the business of dealing with cooking and water all over the country as God of water. It is also known as the god of matchmaking and is now bustling with young couples.
It is not known when the shrine was built, but it is the creation of the age of Emperor Hanzei in the shrine's biography. According to the shrine's biography, the beginning of Kifune shrine is that Tamayoribime who is the mother of the Emperor Jinmu who has boarded a yellow ship and traveled back to Yodogawa, Kamogawa, and Kifunegawa worship the god of water.
The summer Kifune area is much cooler than Kyoto city area, and it is a nifty way of enjoying the Kifune neighborhood to eat the river fish dish and nagashi somen etc. while feeling the coolness by the Kyoto-specific restaurant called the riverbed which is dotted along the road of Kifune.
As a stroll course around the Kifune shrine, first walk from Eizan Railway Kurama Kurama Station to Kurama Sansaku-railway Sanmon station and take the train from there to the Tahoutou. It is common to walk down from the Kurama temple through the Reihoden to the Maouden, to visit the Kifune shrine, and to return from the Eizan Railway Kifune-Guchi station. The maple is beautiful in late autumn in Kifune shrine, but it seems to be a promise to look around from the Kurama temple because the scale is somewhat small to enjoy the sightseeing feeling by the Shinto shrine alone.
adsense2
Kifune Shrine photos
▼Press any thumbnail, and you can see the photo gallery.
▼Tap any thumbnail, and you can see the photo gallery.
Photographer: Taisuke Yamada
Details
Location
〒601-1112
180 Kurama Kibune-cho, Sakyo-ku, Kyoto-shi, Kyoto

Telephone
TEL 075-741-2016
Entrance fee
Free
Usual viewing season
Red leaves
Mid to late November
Access

Eizan Railway
Get off at "Kibuneguchi" station and walk 30 minutes.

Kyoto bus
Take line 33, get off at "Kibune" bus stop, and walk 5 minutes.

Parking lot
There are few.
Please use public transportation.
Site URL
https://kifunejinja.jp/en/
Recommended places to visit in conjunction with

It is this big Kurama tengu to greet us when getting off the Eiden Kurama station. Niomon that is the entrance of Kurama Temple exist in the place that climbing a little from here on road, from there it become a course of a little mountain climbing and hiking.

Jakkoin is Tendai nunnery. It is said that Shotokutaishi was opened in 594 for the Bodhi of the Emperor Yomei who is his father.

Sanzenin is a temple of Tendai in Ohara, Sakyo-ku, Kyoto. The origin of Sanzenin is that Saicho opened one temple to Hieizanhigashido from 782 to 806.