About Matsugasaki Daikokuten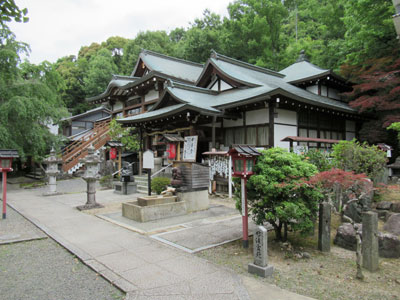 Matsugasaki Daikokuten (Myoenji temple) is a Nichiren sect temple located in the northern back of Kyoto Rakunai and in the middle of the mountain of "Ho" of Gozan no Okuribi. It is famous for "Daikokusama" for good luck familiar with local residents or believers of it from each place of near and far and it is usually called "Daikokusama in Matsugasaki".
There is a torii in front of the gate and it seems to be a shrine by one sight, its premises is the one of temples. There are several statues of lovely Daikokusama, which bring a smile to the worshippers' s face.
However, there is a small sha called Shirakumo Inari shrine in its premises, and it seemed to be a temple with Shinbutsu-Shugo shades.
adsense2
Matsugasaki Daikokuten photos
▼Press any thumbnail, and you can see the photo gallery.
▼Tap any thumbnail, and you can see the photo gallery.
Photographer: Taisuke Yamada
Details
Location
〒606-0943
31 Matsugasaki Higashi-cho, Sakyo-ku, Kyoto City, Kyoto

Telephone
TEL:075-781-5067
Entrance fee
Free
Access
20 minutes on foot from Matsugasaki Station on the Kyoto Municipal Subway Line.
15 minutes on foot from Shugakuin Station on the Eizan Electric Railway.
Take City Bus No.8 North, get off at Matsugasaki Daikokuten Sta. and walk 5 min.
Parking lot
Free (for approximately 8 cars)
Site URL
https://www.kyoto-matsugasakidaikokuten.com/
Recommended places to visit in conjunction with

Yusenji temple is a temple of Nichiren sect located in Kyoto city Sakyo district Matsugasaki. Its mountain title is Shosaki-zan.

Shingu Shrine is a small shrine located at the end of the old Matsukazaki Highway. There is a small Noh stage in the precincts of the shrine. It is also located on a small hill, offering a panoramic view of the city from Kitayama.

The Takagaike Park is located at near the International Hall of the Municipal subway station and a 15-minute walk to the south. There is a small parking lot, so it is convenient to stop by on the drive.