About Kawai Shrine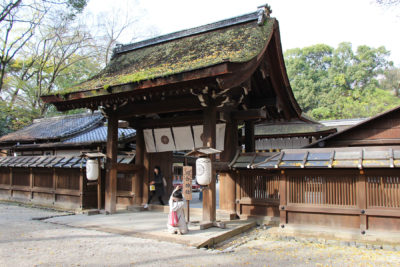 The Kawai shrine is a shrine on the grounds of the Shimogamo shrine. This is a shrine of women's patron, and there are many female worshippers. By the way, there was a place to be able to park a bicycle and a motorcycle.
It's not such a big shrine, but the buildings and small items are so cool that I thought it was really a shrine for women.
In the precincts of the shrine, a woman's face is decorated on ema beautifully. This is a display of the thing that was drawn using the cosmetics that a woman usually uses, and the wish is written on the back of the Ema.
adsense2
Kawai Shrine photos
▼Press any thumbnail, and you can see the photo gallery.
▼Tap any thumbnail, and you can see the photo gallery.
Photographer: Taisuke Yamada
Details
Location
〒606-0807
59 Shimogamo-Izumigawa-cho, Sakyo-ku, Kyoto-shi, Kyoto

Telephone
TEL 075-781-0010
FAX 075-781-4722
Entrance fee
Free
※Kagami-Ema 800 yen
Usual viewing season
Red leaves, Ginkgo biloba
Late November – Mid December
Access

Keihan
Get off at "Demachiyanagi" station and walk about 10 minutes.

City bus
Take the 1, 4, or 205 bus to Shimogamo-jinja-mae and walk 5 minutes.

Parking lot
Shimogamo Shrine(300 units、150 yen/30 min)
Site URL
http://www.shimogamo-jinja.or.jp/
Recommended places to visit in conjunction with

The Shimogamo Shrine is officially called the Kamomiso Shrine. The registration of UNESCO's World Heritage has raised the profile. It is said that it is a shrine honoring the god of the ancient clans Kamo, along with Kamigamo shrine(Kamobetsurai shrine). The south side of the shrine is a native forest called Tadasuno forest, with old trees.

This is Old Mitsui family Shimogamo villa that has begun to be opened to the public from October 2016. It is located at south of Shimogamo-shrine, and a bit north of Demachi-yanagi.

The Kyoto Imperial Palace is called "Gosho" by the neighboring residents and is popular. From the 14th century to the early Meiji period, this is the place where successive emperors lived, priest rituals and public service.