About Imamiya Shrine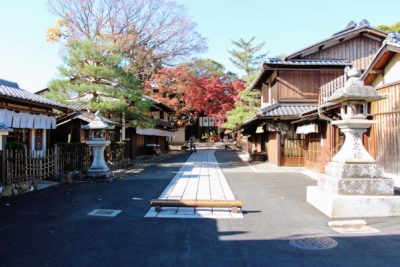 Imamiya Shrine is a shrine in Murasakino, Kita-ku, Kyoto. Also known as the Shrine of marry into a wealthy family.
There are two Meibutsu grilled Mochi shop on the doorstep of the shrine's West Gate. They say to each other "the original" and "upstream", and among the local people, it is famous that they do not know which history is long. Please note that both shops are closed on Wednesdays when I went to take pictures.
There are many shrines in the Imamiya shrine and it is a fairly large shrine. However, the aging of the building is progressing, and the remodeling is desired.
The Yasurai Festival on the second Sunday of April every year, Imamiya Festival in May, and the Rei Festival are held on October 8 and October 9.
adsense2
Imamiya Shrine photos
▼Press any thumbnail, and you can see the photo gallery.
▼Tap any thumbnail, and you can see the photo gallery.
Photographer: Taisuke Yamada
Details
Location
〒603-8243
21, Murasakino Imamiya-cho, Kita-ku, Kyoto-shi, Kyoto

Telephone
075-491-0082(9:00~17:00)
Entrance fee
Free
Usual viewing season
Red leaves
Mid-November – Early December
Access
City bus
Short walk from Imamiya-jinja-mae bus stop on Route 46
Take routes 1, 12, 204, 205, 206, North 8, or M1, get off at "Funaoka-yama" bus stop, and walk 7 minutes.
Parking lot
Yes(standard passenger car)
Site URL
http://www.kyoto-jinjacho.or.jp/shrine/03/019/
Recommended places to visit in conjunction with

Kenkun Shrine (Takeisaojinja) is a somewhat smaller shrine on the Funaoka mountainside, Kita-ku, Kyoto. It is a shrine that is enshrined Oda Nobunaga. In general, it is called "Kenkunjinja".

The Daitokuji Temple in Murasakino, Kita-ku, Kyoto, is a temple that has many temples standing on its premises.(sub-temple) Kotoin is one of them, and only four of Daitokuji's sub-temple are open to the public on a regular basis.

Kinkakuji is a temple of the Rinzai Shokoku Temple sect which says the official name is Rokuon temple. As its name, it is a very beautiful and famous temple that covers the exterior walls of the building with real gold leaf.