About Kinkaku-ji Temple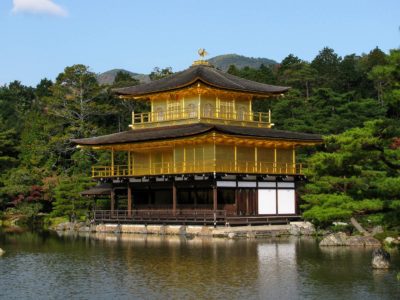 Kinkakuji is a temple of the Rinzai Shokoku Temple sect which says the official name is Rokuon temple. As its name, it is a very beautiful and famous temple that covers the exterior walls of the building with real gold leaf. Muromachi Shogunate 3rd General Yoshimitsu Ashikaga built the Kitayama Sanso, the temple is called Kinkakuji after his death.
Kinkakuji as a tourist destination is always crowded with school excursion students and foreign tourists. Many people take pictures in the background of Kinkakuji.
In recent years, although it is rare that the snow accumulates in Kyoto throughout the year, the roof of the Kinkakuji is covered with snow on the morning of the day when winter snows accumulate. There are many people who go to see and take pictures.
I also went to Kinkakuji to take pictures twice, and I also made plastic models. There is a charm that I want to visit even if I pay money still.
adsense2
Kinkaku-ji Temple photos
▼Press any thumbnail, and you can see the photo gallery.
▼Tap any thumbnail, and you can see the photo gallery.
Photographer: Taisuke Yamada
Details
Location
〒603-8361
1 Kinkakuji-cho, Kita-ku, Kyoto-shi, Kyoto

Telephone
TEL 075-461-0013
Entrance fee
Adults (high school students and older) 400 yen, Elementary and junior high school students 300 yen
Usual viewing season
Red leaves
Late November – Early December
Access
City bus
Take routes 12, 59, 204, 205, MN205, M1, 101, or 102, get off at Kinkakuji-michi bus stop, and walk 3 minutes.
Parking lot
For 30 large buses 1,000 yen per hour
Microbus 500 yen per hour
Private cars 300 yen per hour
Motorcycle 100 yen per hour
Site URL
https://www.shokoku-ji.jp/en/kinkakuji/
Recommended places to visit in conjunction with

Ginkaku temple is formally called Higashiyamajisho Temple and is a temple of the Rinzai Shokoku Temple sect. In 1490 in the Muromachi period, it was erected as Jisho temple, to mourn the reclining Bodhi of Ashikaga Yoshimasa, who died in January of that year.

Hirano Shrine is a shrine built by the emperor Kanmu to coincide with the capital has moved to Heian-Kyo in 794. This is a famous shrine as a cherry blossom attraction, About 50 species and 400 cherry blossoms have been planted, and there are many stalls and cherry blossom visitors at the time of Hanami.

The Daitokuji Temple in Murasakino, Kita-ku, Kyoto, is a temple that has many temples standing on its premises.(sub-temple) Kotoin is one of them, and only four of Daitokuji's sub-temple are open to the public on a regular basis.