About Hirano Shrine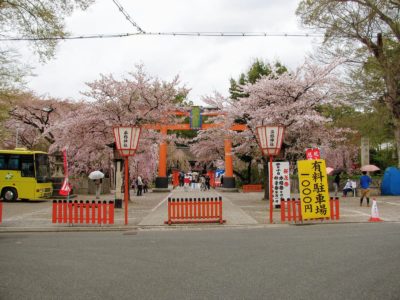 Hirano Shrine is a shrine built by the emperor Kanmu to coincide with the capital has moved to Heian-Kyo in 794. This is a famous shrine as a cherry blossom attraction, About 50 species and 400 cherry blossoms have been planted, and there are many stalls and cherry blossom visitors at the time of Hanami.
Because Hirano Shrine worship the Hime Okami, a woman's guardian deity, it is said that the flowers and women's shrine that there are divine favour, such as children and good match.
The Hirano shrine is located a little south of Kinkakuji, near the northernmost of Nishioji street. You get off at the bus stop of the Kyoto municipal Bus "Kinugasako-mae", and walk a little to the north.
adsense2
Hirano Shrine photos
▼Press any thumbnail, and you can see the photo gallery.
▼Tap any thumbnail, and you can see the photo gallery.
Photographer: Taisuke Yamada
Details
Location
〒603-8322
1 Hiranomiyamoto-cho, Kita-ku, Kyoto-shi, Kyoto

Telephone
TEL 075-461-4450
Entrance fee
Free
Usual viewing season
Cherry(400 trees)
Early March – late April
Access

JR
From Kyoto Station, take the 205 or 50 city bus to Kinugasa-ko-mae and walk north for 3 minutes.

Keifuku Electric Railway Kitano Line
Get off at "Kitano Hakubai-cho" station and walk 10 minutes to the north.

Keihan
From "Sanjo Station", take city bus line 10 to "Kitano Hakubai-cho", 10 minutes walk to the north, or take city bus line 15 to "Kinugasako-mae", 3 minutes walk to the north.

Hankyu
From "Kawaramachi" station, take city bus 205 to "Kinugasa-ko-mae" and walk 3 minutes to the north.

Parking lot
20 spaces for private cars (charged only during cherry blossom viewing season)
Site URL
http://www.hiranojinja.com/
Recommended places to visit in conjunction with

Kitano Tenmangu Shrine is located in Kamigyo-ku, Kyoto-city, and also known as Tenjin-san and Kitano-san. Kitano Tenmangu is a shrine dedicated to the famous Michizane Sugawara as the god of learning, and now collects the faith of many students.

Kinkakuji is a temple of the Rinzai Shokoku Temple sect which says the official name is Rokuon temple. As its name, it is a very beautiful and famous temple that covers the exterior walls of the building with real gold leaf.

Kenkun Shrine (Takeisaojinja) is a somewhat smaller shrine on the Funaoka mountainside, Kita-ku, Kyoto. It is a shrine that is enshrined Oda Nobunaga. In general, it is called "Kenkunjinja".