About Kitano Tenmangu Shrine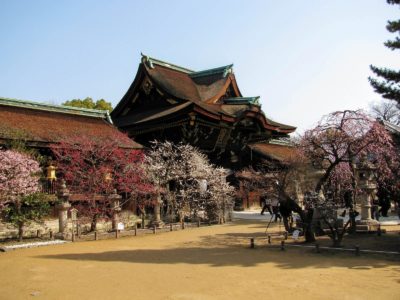 Kitano Tenmangu Shrine is located in Kamigyo-ku, Kyoto-city, and also known as Tenjin-san and Kitano-san. Kitano Tenmangu is a shrine dedicated to the famous Michizane Sugawara as the god of learning, and now collects the faith of many students. On the 25th of every month, there is a fair called "Tenjin-San's Day." On the day, there are plenty of stalls between around 6am to 9pm, and the temple is lit up from sunset.
This shrine is famous for plum too. You can enjoy the plum enough just to pray normally, but you can enjoy the view that the plum tree is planted more when entering the plum garden paying the entrance fee. In the autumn season, there are also Maple garden, which is planted with about 350 maple trees.(Here is also a fee.)
I was able to visit the shrine to the hotseat of plum blossoms in this shooting, and I was able to stroll in the plum garden. The Plum blossoms do not bloom as showy as the cherry blossoms, but I prefer the elegant blooming of the plum. In the plum garden, there are traces of odoi that Toyotomi Hideyoshi has built for the protection of Kyoto, and there is an observatory where you can look at the main shrine, and it is a place where you can enjoy a stroll in spring.
Speaking of Kitano Tenman-gu, Yuba dishes of Toyouke Chaya opposite that road are famous. People are always waiting for the order, but it is recommended because it is famous.
adsense2
Kitano Tenmangu Shrine photos
▼Press any thumbnail, and you can see the photo gallery.
▼Tap any thumbnail, and you can see the photo gallery.
Photographer: Taisuke Yamada
Details
Location
〒602-8386
Bakuro-cho, Kamigyo-ku, Kyoto-shi, Kyoto

Telephone
TEL 075-461-0005
FAX 075-461-6556
Entrance fee

Free admission for worship

Plum Garden (early February to late March)
Adults (junior high school students and older): 700 yen, children: 350 yen
※tea and cakes included

Maple leaves garden (late October – early December)
Adults 700 yen, children 350 yen
※tea and cakes included

Usual viewing season

Plum Garden(Approx. 1500 trees)
Early January – late March

Maple leaves garden (about 300 trees)
Mid-November – Early December

Access

City bus
Short walk from "Kitano Tenmangu-mae" bus stop on routes 10, 50, 51, 55, 203, 101, and 102

Keifuku Train
5 minutes walk from Hakubai-cho Station

Car
Approximately 30 minutes from Kyoto Minami IC or Kyoto Higashi IC of Meishin Expressway

Parking lot
Free for 50 buses (closed on 25th of every month)
Free for 300 private cars (closed on 25th of every month)
※for the purpose of worship only
Site URL
https://www.kitanotenmangu.or.jp/top_en.php
Recommended places to visit in conjunction with

Hirano Shrine is a shrine built by the emperor Kanmu to coincide with the capital has moved to Heian-Kyo in 794. This is a famous shrine as a cherry blossom attraction, About 50 species and 400 cherry blossoms have been planted, and there are many stalls and cherry blossom visitors at the time of Hanami.

Ninna Temple is a temple of the Shingon Omuro head, which is located in the Arashiyama Railway Kitano line Omuroninnaji station. The founder is Emperor Uda.

Kinkakuji is a temple of the Rinzai Shokoku Temple sect which says the official name is Rokuon temple. As its name, it is a very beautiful and famous temple that covers the exterior walls of the building with real gold leaf.