About Philosopher's Walk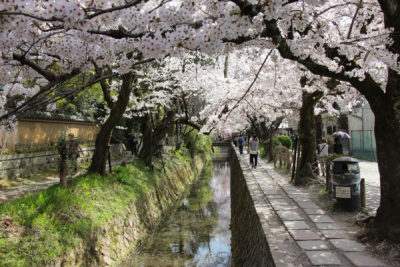 From the intersection of Shirakawa-dori and Imadegawa-dori to the east, from the passage(canal passage) to the Marutamachi-dori at south, the passage is called the Philosopher's Walk. There is a cherry blossom row called "Kansetsuzakura" on the Philosopher's Walk, and it crowds with a lot of hanami visitors every year in the cherry blossom season.
There are about 500 cherry blossoms in the walking path of about 1.5 km in total length. When the cherry blossoms scatter, the cherry blossom petals fill the river of the canal, and you may encounter the spectacle like the cherry tree carpet. In addition, from the end of May to June, you can see the Genji glowworm that inhabit the canal. The carp also seems to live in the canal.
"Philosopher's Walk" came to live a lot of writers in the Meiji era, and it was called, "passage of the writer". Because of the origin of the name is that after that, the philosopher of Kyoto University, Nishida Ikutaro, and Tanabe Gen willingly strolled, and it was said "Philosophical small path" etc.
There are many shrine and temple temples in the vicinity, such as Ginkaku temple, Eikando, Nanzen temple, and Konkaikomyo temple, and it is not limited to the season of cherry blossoms, and it is used as a stroll road to visit these. In recent years, we have seen many foreign tourists.
Also, there are fashionable cafes and restaurants scattered throughout the road, so you can stop by and enjoy your meal in a beautiful view.
adsense2
Philosopher's Walk photos
▼Press any thumbnail, and you can see the photo gallery.
▼Tap any thumbnail, and you can see the photo gallery.
Photographer: Taisuke Yamada
Details
Location
Kitashirakawa Higashi Kubota-cho, Sakyo-ku, Kyoto-shi
~
Wakaojicho, Sakyo-ku, Kyoto-shi

Usual viewing season
Cherry brossom
Early to mid-April
Access
City bus
・Short walk from "Ginkakuji-michi" bus stop on routes 5, 17, 32, 100, 102, 203, 204
・Take routes 5, 32, 93, 100, 203, or 204, get off at Higashi-tenno-machi bus stop, and walk east for about 7 minutes.
Parking lot
None
Recommended places to visit in conjunction with

Ginkaku temple is formally called Higashiyamajisho Temple and is a temple of the Rinzai Shokoku Temple sect. In 1490 in the Muromachi period, it was erected as Jisho temple, to mourn the reclining Bodhi of Ashikaga Yoshimasa, who died in January of that year.

If you want to see the autumnal leaves in Kyoto, the Eikando is famous for the autumnal leaves as it is said that Eikando is recommended. Of course the best time to see here will be in late autumn when leaves color from mid November to late November.

Nanzen Temple is the head temple of the Rinzai Nanzen sect. In 1291, Kameyamahouou founded Nanzen temple greeted Mukanfumonzenshi (Daimyokokushi).