About Ninnaji Temple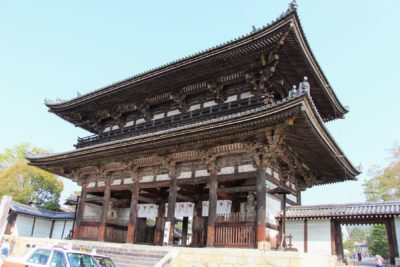 Ninna Temple is a temple of the Shingon Omuro head, which is located in the Arashiyama Railway Kitano line Omuroninnaji station. The founder is Emperor Uda. It is registered as a world heritage as a cultural asset of ancient Kyoto. Ninna temple was a temple associated with imperial household and was also called Omuro Imperial Palace.
It is a temple with many places of interest such as the Nio gate of the two Vajradhara who will welcome the worshipers, and the five-storied pagoda to stay in the back, and the building group is called the-Palace.
Ninna Temple is also famous for its cherry blossoms and has a garden called Omuro Sakura. Omuro cherry blossoms are late compared to other cherry blossoms in Kyoto City, in the year that you have missed cherry blossoms during the cherry blossom season, you can go watching the cherry blossoms of late. In Ninna, the Mitsuba azaleas that bloom pink flowers at the same time as Omuro cherry blossoms will also be in full bloom, so you can enjoy them with cherry blossoms. There are a lot of people who came to photograph the flower on this day, too.
This time, I also went there in the morning of April 4, aiming at the bloom time of the Omuro cherry blossoms. The spring of this year was so warm that the cherry blossoms were early in the season. I also visited the palace, which is quite a splendid building. There is a pond-style North garden with a pagoda, and a south garden of Karesansui, which is very impressive. Many worshippers stopped their legs and were relaxing while admiring the garden.
Ninna temple is usually free to enter the precincts, but at the time of flowering of omuro cherry blossoms, admission to the precincts will be charged.
adsense2
Ninna Temple photos
▼Press any thumbnail, and you can see the photo gallery.
▼Tap any thumbnail, and you can see the photo gallery.
Photographer: Taisuke Yamada
Details
Location
〒616-8092
33 Omuro-Ouchi, Ukyo-ku, Kyoto-shi, Kyoto

Telephone
TEL 075-461-1155
FAX 075-464-4070
Entrance fee

Palace
High school students and older: 500 yen, junior high school students and elementary school students: 300 yen

Reihokan (limited time only)
Adults 500 yen, high school and junior high school students 300 yen, elementary school students free

Special Entry to the Temple
High school students and older: 500 yen, junior high school students and elementary school students: 200 yen

Usual viewing season

Omuro cherry
Early to mid April

Red leaves
Mid-November – Early December

Access

Keifuku
Get off at Omuro Ninnaji Temple and walk for about 3 minutes.

City bus
Short walk from Omuro Ninnaji Temple stop on routes 10, 26, and 59

Parking lot
For 12 buses 1,000 yen
100 units for your own car 500 yen
Site URL
https://ninnaji.jp/en/
Recommended places to visit in conjunction with

Ryoan Temple is a temple of the Rinzai Myoshin sect in Ukyo-ku, Kyoto. The origin is that Katsumoto Hosokawa was founded in 1450. He was the kanrei of the Muromachi shogunate and the Guardian Lord and the eastern army leader of Onin War.

Kinkakuji is a temple of the Rinzai Shokoku Temple sect which says the official name is Rokuon temple. As its name, it is a very beautiful and famous temple that covers the exterior walls of the building with real gold leaf.

Koryu Temple is a Shingon sect temple located in Uzumasa, Ukyo-ku, Kyoto-city. There are aliases such as Hachioka Temple, Hatanokimi Temple, Uzumasa Temple, etc., and also called Uzumasakoryu Temple.