About Ryoanji Temple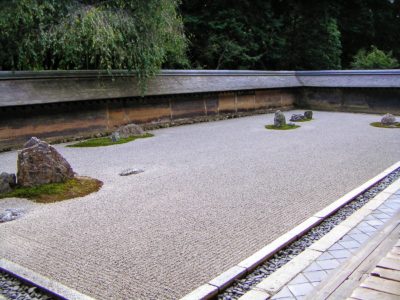 Ryoanji Temple is a temple of the Rinzai Myoshin sect in Ukyo-ku, Kyoto. The origin is that Katsumoto Hosokawa was founded in 1450. He was the kanrei of the Muromachi shogunate and the Guardian Lord and the eastern army leader of Onin War.
Ryoanji Temple's garden is famous for its landscape rock Garden (Sekitei). In addition, there is a large pond called Kyouyouchi, and you can enjoy the Japan-style garden, such as the appearance of birds resting their feathers.
In addition, this temple has a dining place called Saigenin, where you can eat tofu and vegetarian dishes that seem to be zen. It is also elegance and good to eat boiled tofu while admiring the garden of the temple.
adsense2
Ryoanji Temple photos
▼Press any thumbnail, and you can see the photo gallery.
▼Tap any thumbnail, and you can see the photo gallery.
Photographer: Taisuke Yamada
Details
Location
〒616-8001
13 Goryoshita-cho, Ryoanji, Ukyo-ku, Kyoto-shi, Kyoto

Telephone
TEL 075-463-2216
FAX 075-463-2218
Entrance fee
Adults and high school students: 500 yen, Elementary and junior high school students: 300 yen
Usual viewing season

Cherry
Late March – Mid April

Red leaves
Late November – Early December

Access

City bus
Take the 50 or 55 line, get off at Ritsumeikan Daigaku-mae bus stop, and walk 7 minutes.
Short walk from Ryoanji-mae bus stop on Route 59

Keifuku
Get off at "Ryoanji" station and walk 7 minutes.

Parking lot
20 buses, 80 private cars
1 hour free for visitors to the stone garden
Site URL
http://www.ryoanji.jp/smph/eng/
Recommended places to visit in conjunction with

Ninna Temple is a temple of the Shingon Omuro head, which is located in the Arashiyama Railway Kitano line Omuroninnaji station. The founder is Emperor Uda.

Kinkakuji is a temple of the Rinzai Shokoku Temple sect which says the official name is Rokuon temple. As its name, it is a very beautiful and famous temple that covers the exterior walls of the building with real gold leaf.

Hirano Shrine is a shrine built by the emperor Kanmu to coincide with the capital has moved to Heian-Kyo in 794. This is a famous shrine as a cherry blossom attraction, About 50 species and 400 cherry blossoms have been planted, and there are many stalls and cherry blossom visitors at the time of Hanami.