About Koryu-ji Temple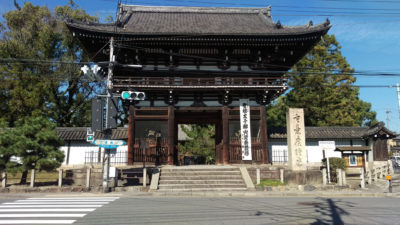 Koryu Temple is a Shingon sect temple located in Uzumasa, Ukyo-ku, Kyoto-city. There are aliases such as Hachioka Temple, Hatanokimi Temple, Uzumasa Temple, etc., and also called Uzumasakoryu Temple.
In addition, Koryuji Temple is a temple for the Mr. Hata clan who is naturalized. It is said to have been the oldest temple in Kyoto, which existed before the capital of Heian-Kyo.
There are two statues of Maitreya Bodhisattva in Koryuji Temple, and these can be seen in the Shinreihoukan (admission is charged).
adsense2
Koryu-ji Temple photos
▼Press any thumbnail, and you can see the photo gallery.
▼Tap any thumbnail, and you can see the photo gallery.
Photographer: Hiroki Iwata
Details
Location
〒616-0000
32, Uzumasa Hachioka-cho, Ukyo-ku, Kyoto-shi, Kyoto

Telephone
075-861-1461
Entrance fee
[shrine of imperial ancestors]
Adult/University student 700 yen
High school students 500 yen
Elementary and junior high school students 400 yen
Free for preschool children
Usual viewing season

Cherry brossom
Late March – early April

Red leaves
Early to late November

Access

JR
13 minutes on foot from "Uzumasa" station

City bus
Get off at "Uzumasa Koryuji-mae" in the 11 system and walk for about 1 minute.

Kyoto bus
Lines 67, 66, 65, 62, 64, 63, 77, 74, 72, 73, 75, 76, 85 get off at "Uzumasa Koryuji-mae" and walk about 1 minute.

Parking lot
30 buses free
Free for 50 private cars
For worshippers only
Recommended places to visit in conjunction with

The official name of the Kaikonoyashiro Shrine is Konoshima-ni-Masu-Amateru-Mitama Shrine. It is also known as Kijima Shrine. The shrine has long been worshipped as a god of praying for rain, and is known for the unusual three-pillar torii gate on the shrine grounds.

Daiei-dori shopping street is a shopping district in the vicinity of Horinouchi-cho Uzumasa Ukyo-ku Kyoto-shi. From east to Arashiyama Electric Railway Uzumasa station west to the vicinity of Arashiyama Electric Railway Katabiranotsuji.

From my house, I took the Kyoto municipal subway to Uzumasa Tenjingawa station, then I changed trains to Arashiyama railroad(common name:Randen) and arrived at Arashiyama station. It took long time. Arashiyama is very famous among foreigner tourist, and many of them are European people and Chinese people.