About Arashiyama park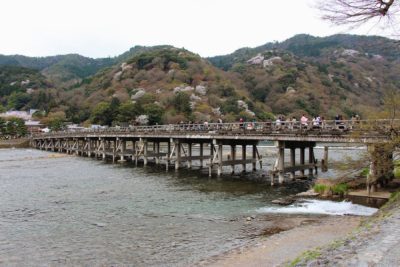 From my house, I took the Kyoto municipal subway to Uzumasa Tenjingawa station, then I changed trains to Arashiyama railroad(common name:Randen) and arrived at Arashiyama station. It took long time. Arashiyama is very famous among foreigner tourist, and many of them are European people and Chinese people.
I got off the train and went out the station, I walked to the south and I arrived at Togetsu-bridge and Arashiyama park. This spot is famous for cherry tree and pine. The view of Katsura river is also magnificent and there is an impression easily. From there I went to the north, then I walked through the road between clump of bamboo.
There are many Jinrickshas, and they are creating nice taste. There are Tenryu-temple and Adashino-nenbutsu-temple, there are famous temples around Arashiyama, but I think that I will go to them sometime.
adsense2
Arashiyama park photos
▼Press any thumbnail, and you can see the photo gallery.
▼Tap any thumbnail, and you can see the photo gallery.
Photographer: Taisuke Yamada
Details
Location
〒616-8384
Saga Tenryuji Zoujicho, Ukyo-ku, Kyoto City, Kyoto

Usual viewing season

Cherry(1500 trees)
Late March – early April

Red leaves
Late November – Early December

Access

Kyoto bus
Get off at "Arashiyama Tenryuji-mae (Randen Arashiyama Station)" or "Arashiyama Koen ( Togetsu-kyo bridge, south side)".

City bus
11・28・93・Special 93 line "Arashiyama" "Arashiyama Tenryuji-mae (Randen Arashiyama-eki-mae)" Get off
Get off at "Arashiyama Park" in line 28

Parking lot
Kyoto City Arashiyama Tourist Parking Lot
37 buses 2,500 yen
Regular car 105 units 1,000yen
Motorcycle 400 yen
Bicycle 200 yen
Site URL
http://www.pref.kyoto.jp/koen-annai/ara.html
Recommended places to visit in conjunction with

Seiryo temple is a Jodo temple in Saga, Ukyo-ku, Kyoto. It is a 15-minute walk north of the Arashiyama Railway Arashiyama station. Seiryo temple is called Mt.Godai as honorific mountain name prefixed to a temple's name. It is also known by the name of Sagashakado, it is also known as the "Yuzu Nenbutsu Dojo".

Ninna Temple is a temple of the Shingon Omuro head, which is located in the Arashiyama Railway Kitano line Omuroninnaji station. The founder is Emperor Uda.

The official name of the Kaikonoyashiro Shrine is Konoshima-ni-Masu-Amateru-Mitama Shrine. It is also known as Kijima Shrine. The shrine has long been worshipped as a god of praying for rain, and is known for the unusual three-pillar torii gate on the shrine grounds.