About Fushimi Inari Taisha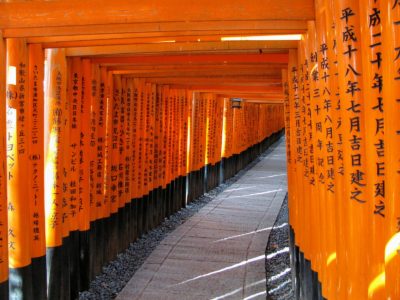 The Grand Shrine of "Inari-san", which exists all over the country, is Fushimi Inari Taisha. The history dates back to 711 in the Nara period. Fushimi Inari Taisha Shrine has a main hall at the foot of Inari Mountain, and the entire Inariyama is the site.
When you go to Fushimi Inari, you will find many torii, such as a thousand torii of specialty.(It is said that there are about ten thousand Torii including Inariyama.) It might be fun to visit a little hike.
The Fushimi Inari Taisha shrine is said to have a divine favor of "prosperous business", "Bountiful Harvest", "all Recovery" and "academic accomplishment", etc., and there is a crowd of 2.7 million people in the annual New Year's visit to the shrine.
adsense2
Fushimi Inari Taisha photos
▼Press any thumbnail, and you can see the photo gallery.
▼Tap any thumbnail, and you can see the photo gallery.
Photographer: Taisuke Yamada
Details
Location
〒612-0882
68 Yabunouchi-cho, Fukakusa, Fushimi-ku, Kyoto-shi, Kyoto

Telephone
TEL 075-641-7331
FAX 075-642-2153
Entrance fee
Free
Usual viewing season
Red leaves
Mid November – Early December
Access

JR
Get off at Inari Station on the Nara Line and walk shortly.

Keihan
Get off at "Fushimi Inari" station and walk east for 5 minutes.

City bus
Get off at "Inari Taisha-mae" on the south 5 line, and walk 7 minutes to the east.

Car
Approximately 20 minutes from Kyoto Minami IC of Meishin Expressway
About 10 minutes from Kamitoba exit on Hanshin Expressway
※The area around the Taisha parking lot (roads) will be very crowded. Please use public transportation to visit the shrine.

Parking lot
Free for 20 buses (outside the precincts)
170 passenger cars free of charge (in the precincts)
※For worshippers only
Site URL
http://inari.jp/en/
Recommended places to visit in conjunction with

Tofukuji is a temple of the Rinzai Tofukuji sect. The beginning of the history of Tofukuji is that the Kujoumichiie, who was regent at the time in 1236, took single character from the name of Todaiji and Kofukuji in Nara and erected the temple under the name Tofukuji.

Toji is the head of Toji Shingon and is also called "Kyouougokokuji." Its upbringing is said to have been erected by Fujiwara-no-isendo in 796 after Heian-Kyo capital.

The beginning of Fushimi Castle (Fushimimomoyamajou) was that he built in Fushimi Shigetsu in August 1592 after Toyotomi Hideyoshi began sending troops to Korea (battle of bunroku).