About Toji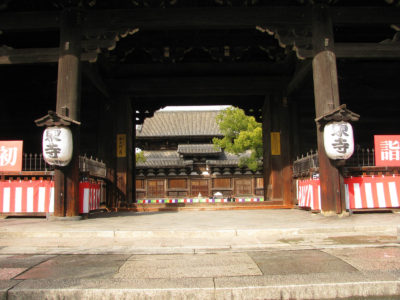 Toji is the head of Toji Shingon and is also called "Kyouougokokuji." Its upbringing is said to have been erected by Fujiwara-no-isendo in 796 after Heian-Kyo capital. As a temple of Kobotaishi, Toji came to gather the belief widely from the royalty to the people.
It is a national treasure, and the tallest pagoda in Japan as a wooden tower has a height of 54.8 meters. This seems to correspond to the height of the building of from 15 stories to 20 stories in modern times. The main hall also has a large Bhaisajyaguru (principal image) and a gilded Buddha of Suryaprabha and Candraprabha, you should also watch it here. In addition, there is a three-dimensional mandala named Katsuma Mandala in the auditorium, which was made by Daishi Kukai. The mandala is the iconography which shows the tower to rally of various Buddhas centering on the main principle based on the teaching of Esoteric Buddhism.
I went for the purpose of filming this time, but because the shooting of the Buddhist image is basically forbidden at the temple, the object that I can photograph in the East temple was only about a building and a garden. If you are looking for a cherry blossom or a season of autumn leaves, you might be able to take a more presentable photo. It seems to be lit up every year.
At Toji, there are fairs called Koboichi (Kobo-san) on the 21st of every month, it is crowded with a lot of street vendors every time. If you think that you want to go to Toji, it's fun to go on the day.
adsense2
Toji photos
▼Press any thumbnail, and you can see the photo gallery.
▼Tap any thumbnail, and you can see the photo gallery.
Photographer: Taisuke Yamada
Details
Location
〒601-8473 1 Kujo-cho, Minami-ku, Kyoto-shi, Kyoto

Telephone
TEL 075-691-3325
FAX 075-662-0250
Entrance fee
University students and older: 500 yen, high school students: 400 yen, junior high school students and younger: 300 yen
※Prices vary depending on the season of year.
Usual viewing season

Cherry(Approx. 200 trees)
Mid-March – Mid-April
※illuminated (with lights)

Red leaves
Mid-November – Early December
※illuminated (with lights)

Access

Kintetsu
Get off at Toji Station and walk about 10 minutes.

City bus
Short walk from "Toji Higashimon-mae" bus stop

JR
Approx. 15 minutes walk from "Kyoto Station".

Parking lot
For 10 buses 2,000 yen for 2 hours
For 50 private cars: 600 yen for 2 hours
Cab: 600 yen for 2 hours
※Not available on the 21st of every month
Site URL
http://www.toji.or.jp/
Recommended places to visit in conjunction with

The Kyoto Aquarium is a new topic in Hichijoumekoji Park, and it is very crowded with children and students every day. Because there is no sea in Kyoto City, this facility which can touch the living thing of the sea is valuable.

The Umekoji Locomotive Museum, which was in the corner of Umekoji Park until August 2015, consisted of "steam locomotive exhibition Hall" utilizing the fan type and turntable of the former Umekoji engine depot, and "Materials exhibition hall" reconstructed and restored the old Nijo station building.

When I arrived at Kyoto Station in Jr, the first thing I saw was Kyoto station. The area around Kyoto station was undeveloped and there were few places to play, but in recent years, the area has been re-developed and there are many places to enjoy.