About Kyoto Aquarium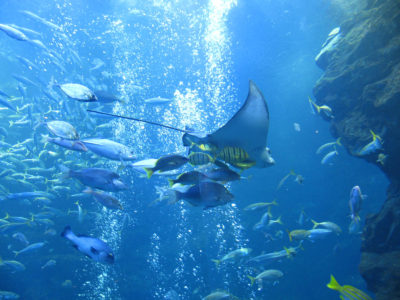 The Kyoto Aquarium is a new topic in Hichijoumekoji Park, and it is very crowded with children and students every day. Because there is no sea in Kyoto City, this facility which can touch the living thing of the sea is valuable.
I heard that the saltwater in the aquarium is not the one carried from the sea but is made in the facility using new technology. Ticket sales and annual passports are available for admission. If you are living in the neighborhood, the annual passport is far more advantageous. In the hall, there is an area of the form which looks around a normal aquarium and a dolphin show.
In addition, like an aquarium in Kyoto, and the fish of the river and the giant salamander of a natural monument are also bred besides the living thing of the sea.
It might be good to see it with the Kyoto Railway Museum on the site, too. However, there is no parking lot in the Umekoji park, so be careful.
adsense2
Kyoto Aquarium photos
▼Press any thumbnail, and you can see the photo gallery.
▼Tap any thumbnail, and you can see the photo gallery.
Photographer: Taisuke Yamada
Details
Location
〒600-8835
35-1 Kankiji-cho, Shimogyo-ku, Kyoto-shi, Kyoto (in Umekoji Park)

Telephone
TEL 075-354-3130(10:00~18:00)
Entrance fee
Adults 2,050 yen, college and high school students 1,550 yen, junior high and elementary school students 1,000 yen, infants (3 years and older)
※Annual passport and other discounts available
Usual viewing season
Red leaves
Mid November – Early December
Access

City bus
Get off at "Shichijo Omiya/Kyoto Aquarium Mae" stop.

Keihan Kyoto Kotsu
Get off at "Shichijo Omiya/Kyoto Aquarium Mae" stop.

Parking lot
No private parking lot
Umekoji Park Omoiyari Parking Lot (fee-based, limited to use by disabled persons/elderly persons/infants and toddlers/expectant mothers/injured persons/people with walking difficulties) 78 standard vehicles
Bicycle and motorcycle parking available
Site URL
http://www.kyoto-aquarium.com/
Recommended places to visit in conjunction with

The Umekoji Locomotive Museum, which was in the corner of Umekoji Park until August 2015, consisted of "steam locomotive exhibition Hall" utilizing the fan type and turntable of the former Umekoji engine depot, and "Materials exhibition hall" reconstructed and restored the old Nijo station building.

When I arrived at Kyoto Station in Jr, the first thing I saw was Kyoto station. The area around Kyoto station was undeveloped and there were few places to play, but in recent years, the area has been re-developed and there are many places to enjoy.

Kyoto City Zoo is the second oldest zoo in Japan opened in Meiji 36 (1903). The location is Okazaki, Sakyo-ku, Kyoto.