About the area around Kyoto station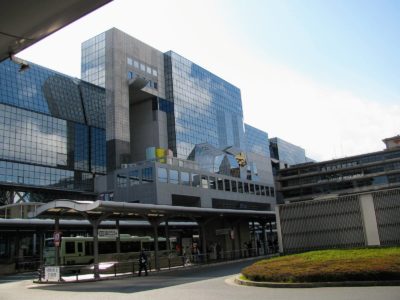 When I arrived at Kyoto Station in Jr, the first thing I saw was Kyoto station. The area around Kyoto station was undeveloped and there were few places to play, but in recent years, the area has been re-developed and there are many places to enjoy.
First, from Kyoto station building. There is a long escalator in east and west, you can climb to the top floor. There is a resting place on the top floor, so you can see the view of the city of Kyoto. There is a isetan in the building, and the station building is a shopping spot.
In the basement of Kyoto station, there is an underground town named Porta. This place is always crowded with shoppers. Events are sometimes held in the central hall of the underground town.
Opposite the Kyoto Station building is the Kyoto Tower, which mimics the shape of a candle. You can also enjoy views of Kyoto in this place. (2013/2/10 currently under renovation)
The shopping facilities include Isetan in the station building and Yodobashi cameras and BIC cameras. If you go to the south side of the station, you will find a large-scale store called Avanti and Aeon Mall.
adsense2
The area around Kyoto station photos
▼Press any thumbnail, and you can see the photo gallery.
▼Tap any thumbnail, and you can see the photo gallery.
Photographer: Taisuke Yamada
Details
Location
Higashishiokoji Kamadono-cho, Shimogyo-ku, Kyoto City, Kyoto

Telephone
0570-00-2486
※Telephone number of JR West Customer Center
Parking lot
Pay parking available nearby
Site URL
https://www.kyoto-station-building.co.jp/
Recommended places to visit in conjunction with

The Umekoji Locomotive Museum, which was in the corner of Umekoji Park until August 2015, consisted of "steam locomotive exhibition Hall" utilizing the fan type and turntable of the former Umekoji engine depot, and "Materials exhibition hall" reconstructed and restored the old Nijo station building.

The Kyoto Aquarium is a new topic in Hichijoumekoji Park, and it is very crowded with children and students every day. Because there is no sea in Kyoto City, this facility which can touch the living thing of the sea is valuable.

Higashi Hongan-ji temple is the head temple of the Jodo-Shin Otani sect, and is a temple with a strong faith color unlike the so-called sightseeing temples in Kyoto.