About Higashi Hongan-ji Temple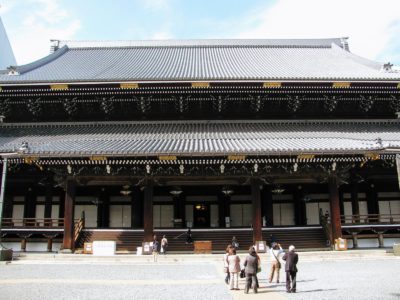 Higashi Hongan-ji temple is the head temple of the Jodo-Shin Otani sect, and is a temple with a strong faith color unlike the so-called sightseeing temples in Kyoto. The main hall is very grand, and it is not fit for the lens of the digital camera though it is large from the site. Higashi Hongan-ji temple is also called "Ohigashi" and "Ohigashi-san".
The beginning of the Nishi Hongan-ji temple and Higashi Hongan-ji temple as present separately is to have acquired land in Kyonyo in the Karasuma Rokujo in 1602 and erected the Higashi Honganji temple.
The East Honganji Temple is famous for the feeding of pigeons in local. You can also see the nearby Kyoto Tower from the precincts. Because the admission fee is free, I think that it is suitable for the visit destination of the school excursion.
adsense2
Higashi Hongan-ji Temple photos
▼Press any thumbnail, and you can see the photo gallery.
▼Tap any thumbnail, and you can see the photo gallery.
Photographer: Taisuke Yamada
Details
Location
〒600-8505
754, Tokiwa-cho, Shichijo-noboru, Karasuma-Dori, Shimogyo-ku, Kyoto City, Kyoto

Telephone
TEL 075-371-9181
Entrance fee
Free
Usual viewing season
Autumn leaves of ginkgo avenue
Mid November – Early December
Access

JR
7 minutes walk from "Kyoto Station"

Subway
5 min. walk from "Gojo" station

City bus
1 minute walk from "Karasuma Shichijo" bus stop

Parking lot
Buses and passenger cars can use the public pay parking meter in front of the gate.
Site URL
http://english.higashihonganji.or.jp/english_top/
Recommended places to visit in conjunction with

Nishi Hongan-ji temple is simply referred to as the Honganji temple, and is the Honzan of Jodo Shinshu Hongan-ji Temple sect. Nishi Honganji is a common name, the official name is Ryukoku mountain Hongan-ji.

Kosho Temple is said to have Shinran built in Yamashiro country Yamashirogo in 1212. The temple is the head of the Kosho sect of Shinshu. The atmosphere of the building of the Kosho Temple is similar to the neighboring Nishi Hongan temple, but it is another temple.

When I arrived at Kyoto Station in Jr, the first thing I saw was Kyoto station. The area around Kyoto station was undeveloped and there were few places to play, but in recent years, the area has been re-developed and there are many places to enjoy.