About Nishi Hongan-ji Temple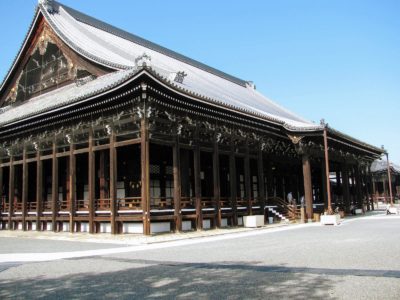 Nishi Hongan-ji Temple is simply referred to as the Honganji temple, and is the Honzan of Jodo Shinshu Hongan-ji Temple sect. Nishi Honganji is a common name, the official name is Ryukoku mountain Hongan-ji. The name of the neighboring Ryukoku University seems to come from here, too. Nishi Hongan-ji temple is also called "Onishisan" from Kyoto citizens. It is said that it was in 1591 that it was built in the present place.
As well as the East Hongan-ji Temple, the site area is also large, huge and majestic main hall is very impressive. The ginkgo tree planted in the precincts is also majestic. In addition, since the Temple of East and West Honganji is not made up of tourist income, there is no admission fee.
When you come to Nishi Hongan-ji Temple, I think it is good to see the Kosho temple which is adjacent to the south together, too. On the day I took pictures, there was an exhibition of chrysanthemum flowers.
adsense2
Nishi Hongan-ji Temple photos
▼Press any thumbnail, and you can see the photo gallery.
▼Tap any thumbnail, and you can see the photo gallery.
Photographer: Taisuke Yamada
Details
Location
〒600-8501
60 Monzen-cho, Hanayacho-kudaru, Horikawa-dori, Shimogyo-ku, Kyoto-shi, Kyoto

Telephone
TEL 075-371-5181
FAX 075-371-5241
Entrance fee
Free(kindliness)
Usual viewing season
Yellow leaves (Ginkgo biloba)
Mid November – Early December
Access

From JR/Kintetsu Kyoto Station
From Kyoto Station, take city bus No. 9, 28, or 75 (bound for Nishigamo Shako, etc.), and get off at Nishi-honganjimae.

When using the Hankyu Railway
From Kawaramachi Station, take City Bus No. 207 at Shijo-Kawaramachi and get off at Shimabaraguchi.
From Omiya Station, take City Bus No. 18, 71, 206, or 207 at "Shijo Omiya" and get off at "Shimabaraguchi".

From Shichijo Station, Keihan Railway
From Shichijo Station, take City Bus No. 206 or 208 from "Shichijo Keihan-mae" and get off at "Shichijo Horikawa".

Cab use
Please indicate "Nishi Honganji" as the destination.
It is a few minutes from JR Kyoto Station, and about 10 minutes from Hankyu Omiya Station or Keihan Shichijo Station.

Parking lot
Parking lot for worshippers available
Site URL
http://www.hongwanji.or.jp/
Recommended places to visit in conjunction with

Kosho Temple is said to have Shinran built in Yamashiro country Yamashirogo in 1212. The temple is the head of the Kosho sect of Shinshu. The atmosphere of the building of the Kosho Temple is similar to the neighboring Nishi Hongan temple, but it is another temple.

Higashi Hongan-ji temple is the head temple of the Jodo-Shin Otani sect, and is a temple with a strong faith color unlike the so-called sightseeing temples in Kyoto.

The Kyoto Aquarium is a new topic in Hichijoumekoji Park, and it is very crowded with children and students every day. Because there is no sea in Kyoto City, this facility which can touch the living thing of the sea is valuable.