About Rokuoin Temple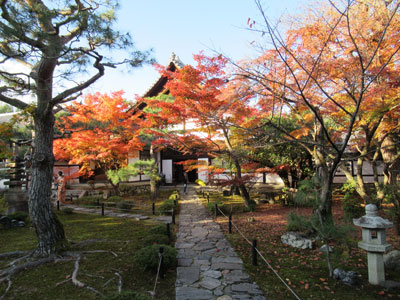 Rokuoin is the Rinzai sect single-storied temple located in Kyoto City Ukyo Ward Saga Kitahori town. Its mountain title is Kakuyuzan. Its deity is Shakyamuni. Its history started as the Hodo-ji Temple's Kaiyan Pagoda which was built by Yoshimitu Ashikaga with Myoha Shunoku its beginner in Koreki 2 (1380).
Rokuoin was built in the first year of the Kakei era (1387) as a pagoda to protect the jutto (tomb built before his death) of Myoha Shunoku, the founder of the temple. It is said that the origin of its name was from the fact that there are herds of wild deer when he opened this land.
In the main hall (Kaizando), there is a seated statue of Shakyamuni Buddha by Unkei. In addition to the principal image, statues of the ten great disciples by Unkei, the statue of Yoshimitu Ashikaga, and the statue of Toracen are enshrined in the temple. There is also a Hokyointo (a Japanese box-shaped pagoda) directly below the statue of Kokushi.
On the day, the leaves were brightly colored, but unfortunately, the Shariden was undergoing repair work.
adsense2
Rokuoin Temple photos
▼Press any thumbnail, and you can see the photo gallery.
▼Tap any thumbnail, and you can see the photo gallery.
Photographer: Taisuke Yamada
Details
Location
〒616-8367 24 Saga Kitabori-cho, Ukyo-ku, Kyoto City, Kyoto

Telephone
TEL:075-861-1645
Entrance fee
400 yen
Access
3 minutes walk from Randen "Rokuoin" station
JR line "Saga-Arashiyama station" 6 minutes walk
City Bus/Kyoto Bus "Shimosaga" stop, 3 min. walk
Parking lot
Free parking in front of the gate.
Site URL
https://ja.wikipedia.org/wiki/鹿王院
Recommended places to visit in conjunction with
Kurumazaki Shrine is located in Saga, Ukyo-ku, Kyoto City. There is also a performing arts shrine on the grounds, which attracts a very large number of young worshippers.

From my house, I took the Kyoto municipal subway to Uzumasa Tenjingawa station, then I changed trains to Arashiyama railroad(common name:Randen) and arrived at Arashiyama station. It took long time. Arashiyama is very famous among foreigner tourist, and many of them are European people and Chinese people.

The entrance of the Tenryu Temple of the Rinzai Tenryu Temple sect Daihonzan is located near Arashiyama Railway Arashiyama station. The founding is said to have been conducted by Takauji Ashikaga in 1339, and it is said that the purpose was to memorialize Godaigo Emperor's spirit.