About Tenryuji Temple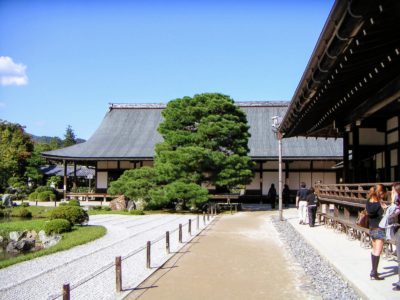 The entrance of the Tenryuji Temple of the Rinzai Tenryuji Temple sect Daihonzan is located near Arashiyama Railway Arashiyama station. The founding is said to have been conducted by Takauji Ashikaga in 1339, and it is said that the purpose was to memorialize Godaigo Emperor's spirit.
The attractions of the Tenryuji Temple as a tourist destination are the splendid Japan gardens. There is a large pond on the premises, and the surrounding area is a huge garden. The admission fee is a little high, but if you like Japan Garden, you can enjoy it.
Tenryuji Temple is also known as one of the most famous foliage spots in the Kyoto Arashiyama area, it is bustling with a lot of tourists at the heyday in late autumn. The garden with its beautiful foliage in Arashiyama and the views of the park has a special charm that is different from the rest of the season.
When you come to Arashiyama, it is a tourist attraction that you want to keep with Togetsu and Bamboo Grove.
adsense2
Tenryuji Temple photos
▼Press any thumbnail, and you can see the photo gallery.
▼Tap any thumbnail, and you can see the photo gallery.
Photographer: Taisuke Yamada
Details
Location
〒616-8385
68 Susukinobaba-cho, Saga-Tenryuji, Ukyo-ku, Kyoto-shi, Kyoto

Telephone
075-881-1235(8:30~17:30)
075-864-2424
Entrance fee

Garden
High school students and older: 500 yen, elementary and junior high school students: 300 yen, preschool children: free

Various buildings
300 yen added to garden visitation fee

※Hodo Special Open House: 500 yen

Usual viewing season

Cherry
Late March – Mid April

Red leaves
Mid November – Early December

Access

Keifuku
In front of Arashiyama Station on the Arashiyama Line

JR
Get off at Saga-Arashiyama Station on the Sagano Line and walk 13 minutes.

Hankyu
Get off at "Arashiyama" station and walk 15 minutes.

City bus
Before getting off at "Arashiyama Tenryuji-mae" on routes 11, 28, and 93

Kyoto bus
In front of Keifuku Arashiyama Eki-mae bus stop on routes 61, 72, and 83

Parking lot
1,000 yen per passenger car
Bus: 1,000 yen per hour (500 yen per 30 minutes thereafter)
Cab 2 hours 500 yen
※Up to 100 private cars
Site URL
http://www.tenryuji.com/en/
Recommended places to visit in conjunction with

From my house, I took the Kyoto municipal subway to Uzumasa Tenjingawa station, then I changed trains to Arashiyama railroad(common name:Randen) and arrived at Arashiyama station. It took long time. Arashiyama is very famous among foreigner tourist, and many of them are European people and Chinese people.

Umemiyataisha is a shrine in Umezu, Ukyo-ku, Kyoto. It is a shrine known as Tachibana's tutelary deity.