About Umenomiyataisha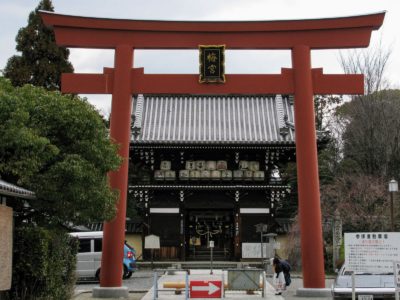 Umenomiyataisha is a shrine in Umezu, Ukyo-ku, Kyoto. It is a shrine known as Tachibana's tutelary deity. Umenomiyataisha was originally built near the Tsuzuki County Ide town in the south during the Nara period, and it was relocated to the current location by Tachibananokachiko (Danrin empress) in the early Heian period.
Umenomiyataisha is known for the Kodakara, the prayer for the birth, and the god of sake, but it is also attracting attention as a "cat shrine", and there seems to be some visitors who come to see cats in the shrine grounds and gardens. On the day I went to shoot, friendly cats were relaxing. Cats are mainly around the reception of shrine office. I've grin been molested by cats when I buy Shinen tickets.
There is a Shinen to surround the main hall, and flowers for each season are planted, such as plums, camellia, hydrangea and iris, and so it's built like a botanical garden and Japanese gardens. This time, it was aimed at the time when the plum blooms, but seems to have been a little earlier. Even so, I have taken a lot of pictures of plum trees, so I'm happy if you look at them.
On the first Sunday of March, there is a Ume Ume festival to pray for Kodakara delivery, and plum juice made from libation and Sinen plums is free. (from 9:30 a.m. to 4:30 p.m.) In addition, the Shinko festival is held on May 3 every year. (Eve Festival is also the day before) in Shinko Festival, 16 groups of children Mikoshi and large Mikoshi shrine the district of parishioner Circumambulation, and the large Mikoshi enters the temple in the evening. Shinko Festival's Day will be published Shinen free of charge.
adsense2
Umenomiyataisha photos
▼Press any thumbnail, and you can see the photo gallery.
▼Tap any thumbnail, and you can see the photo gallery.
Photographer: Taisuke Yamada
Details
Location
〒615-0921
30 Fukenokawa-cho, Umezu, Ukyo-ku, Kyoto-shi, Kyoto

Telephone
TEL 075-861-2730
FAX 075-861-7593
E-mail
gu-ji@umenomiya.or.jp
Entrance fee
Shinen Adults 550 yen, children 350 yen
Usual viewing season

Plum(450 trees)
Mid-February – Mid-March

Yaezakura(130 trees)
April 10 – April 25

Red leaves
Mid to late November

Access

City bus
Take Kyoto City Bus No. 3, 28, 29 or 71 and get off at "Umenomiya-jinja-mae". Cross the street to the right at the traffic light immediately ahead.

JR
30 minutes by cab from "Kyoto Station".
Or, from Shichijo Exit, take City Bus No. 28. From Hachijo Exit, take City Bus No. 71 and get off at "Umenomiya Shrine Mae".

Hankyu
15-minute walk from Matsuo Taisha Station on the Arashiyama Line.

Parking lot
Yes(free)
Site URL
http://www.umenomiya.or.jp/
Recommended places to visit in conjunction with

From my house, I took the Kyoto municipal subway to Uzumasa Tenjingawa station, then I changed trains to Arashiyama railroad(common name:Randen) and arrived at Arashiyama station. It took long time. Arashiyama is very famous among foreigner tourist, and many of them are European people and Chinese people.

Koryu Temple is a Shingon sect temple located in Uzumasa, Ukyo-ku, Kyoto-city. There are aliases such as Hachioka Temple, Hatanokimi Temple, Uzumasa Temple, etc., and also called Uzumasakoryu Temple.

Daiei-dori shopping street is a shopping district in the vicinity of Horinouchi-cho Uzumasa Ukyo-ku Kyoto-shi. From east to Arashiyama Electric Railway Uzumasa station west to the vicinity of Arashiyama Electric Railway Katabiranotsuji.