About Kurumazaki Shrine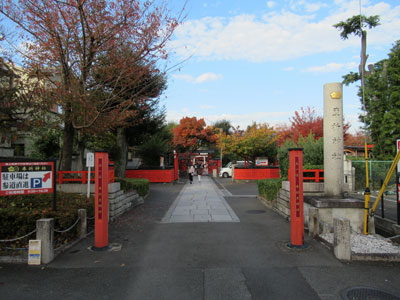 The shrine is dedicated to Yorinari Kiyohara (1122-1189), a Confucian scholar from the late Heian Period.
According to shrine legend, when Emperor Gosaga was riding his ox cart past the shrine, the ox suddenly stopped moving and the yoke was broken, hence the name Kurumazaki Shrine.
It has long been said to be beneficial for the improvement of learning, business prosperity, and the collection of account receivable and it is customary to pray with the pebbles awarded at the shrine office, take them home, and return them to the shrine with one stone of gratitude when your wish is fulfilled.
Within the precincts of the shrine is a performing arts shrine dedicated to Ama-no-Uzume-no-mikoto, the ancestral deity of the performing arts, and has long been revered by those who pray for the improvement of the performing arts.
The precincts of the shrine were lined with billboards of people involved in the performing arts, and the temple was crowded with worshippers. The precincts of the shrine, decorated with red-colored leaves seem to be a famous sightseeing spot in Saga Arashiyama.
adsense2
Kurumazaki Shrine photos
▼Press any thumbnail, and you can see the photo gallery.
▼Tap any thumbnail, and you can see the photo gallery.
Photographer: Taisuke Yamada
Details
Location
〒616-8343 23 Saga-Asahi-cho, Ukyo-ku, Kyoto City, Kyoto

Telephone
TEL:075-861-0039
Entrance fee
free admission for worshippers
Access
Randen "Kurumazaki Jinja" station, just after getting off
City bus/Kyoto bus, get off at "Kurumazaki Jinja-mae" station.
Parking lot
Yes (limited to the purpose of worship)
Site URL
http://www.kurumazakijinja.or.jp/
Recommended places to visit in conjunction with

Rokuoin is a separate temple of the Rinzai sect located in Sagakitaboricho, Ukyo-ku, Kyoto. The mountain number is Mount Kakuo. The main statue is Buddha Buddha. Its history begins in 1380 at the opening of Hodoji Temple, which was founded by Ashikaga Yoshimitsu with Shunokumyoha as the opening of the mountain.

Koryu Temple is a Shingon sect temple located in Uzumasa, Ukyo-ku, Kyoto-city. There are aliases such as Hachioka Temple, Hatanokimi Temple, Uzumasa Temple, etc., and also called Uzumasakoryu Temple.

The official name of the Kaikonoyashiro Shrine is Konoshima-ni-Masu-Amateru-Mitama Shrine. It is also known as Kijima Shrine. The shrine has long been worshipped as a god of praying for rain, and is known for the unusual three-pillar torii gate on the shrine grounds.