About Gion Festival Yamabokojunko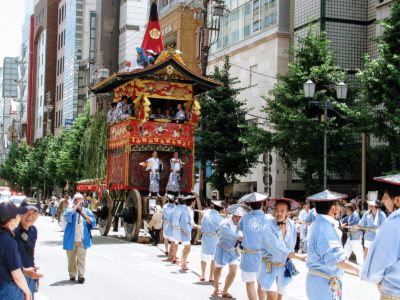 The biggest event in the summer in Kyoto is the Gion festival. The Gion festival continues with Yoiyoiyama, Yoiyama and Yamabokojunko, and at the Yamahoko circumambulation of July 17 (the previous festival) and July 24 (the after festival) each year, the Yama and the Hoko that were prepared in each town parade the center of Kyoto. In the Yama and the Hoko of the Gion Festival in Kyoto, the things with high value is used for Gion festival to be called "Moving Museum". The Gion festival is one of the three great festivals of Kyoto, Japan three great festival, Japan three great Hikiyama festival, and is a very famous festival nationally.
I think that the place where the work of the turnabout called "Tsuji turning" is seen is the intersection of Shijo Kawaramachi. However, the author was able to take pictures at this time from the Kawaramachi Oike intersection, and it was possible to see "Tsuji turning". When you visit the site, you had better prepare a strong heat stroke measures such as a folding fan, a round paper fan, hat, hydration, and sunscreen. There are also paid seats in various places.
Gion Festival was called "Gion Goryo KAI" until the Meiji period in the festival of Yasaka Shrine in Higashiyama Ward, Kyoto City. The origins of the Gion festival are said to have "the Imperial Court" the first Holy Spirit meeting in Shinsen-en in 863 (Jogan 5 years) to pray for good health due to the epidemic of the plague in Kyoto.
adsense2
Gion Festival Yamabokojunko photos
▼Press any thumbnail, and you can see the photo gallery.
▼Tap any thumbnail, and you can see the photo gallery.
Photographer: Taisuke Yamada
Details
Date
July 17: Former Festival
July 24: Post Festival
Route
Shijo-Karasuma→Kawaramachi-Shijo→Kawaramachi-Oike→Shinmachi-Oike
Kyoto City Tourism Association
TEL:075-213-1717
※Inquiries about paid seating
Site URL
http://www.gionmatsuri.or.jp/yamahoko/
Recommended places to visit in conjunction with

Honnoji is a temple of Nichiren Buddhism, southwest of Kawaramachi Oike in Nakagyo ward, Kyoto. This temple is very famous in Honnoji incident that Mitsuhide Akechi avenge Nobunaga Oda.

Nijo Castle is a castle that was built in the Edo period, and the one that remains now is the one erected by Mr. Tokugawa. It is the beginning and end of the Edo period, with the celebratory ceremony of Ieyasu Tokugawa's Shogun Senge, and the Yoshinobu Tokugawa of restoration rule of the Tokugawa Imperial.

The Kyoto Imperial Palace is called "Gosho" by the neighboring residents and is popular. From the 14th century to the early Meiji period, this is the place where successive emperors lived, priest rituals and public service.