About Honnoji Temple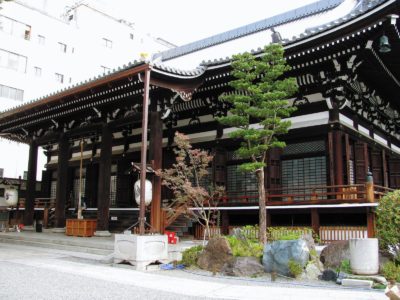 Honnoji is a temple of Nichiren Buddhism, southwest of Kawaramachi Oike in Nakagyo ward, Kyoto. This temple is very famous in Honnoji incident that Mitsuhide Akechi avenge Nobunaga Oda. Honnoji is originally named Honnoji (another kanji) and is a temple built by Nichiryu between Kyoto Aburakoji-takatsuji and Gojo-boumon in 1415.
Honnoji used to have more expansive grounds than now. Now it is no longer a big temple, but as a history fan to know Honnoji incident, it is a hidden tourist attraction that you want to visit once.
The gate of this temple is in an arcade street on Teramachi Street, so it might be nice to stop by this temple when you shop.
adsense2
Honnoji Temple photos
▼Press any thumbnail, and you can see the photo gallery.
▼Tap any thumbnail, and you can see the photo gallery.
Photographer: Taisuke Yamada
Details
Location
〒604-8091 522 Shimohonnoujimae-cho, Teramachi-Dori Oike-Kudaru, Nakagyo-ku, Kyoto City, Kyoto

Telephone
TEL 075-231-5335(9:00~17:00)
FAX 075-211-2838
Entrance fee
Free
※Fee is charged for the Daiboden Hall of Treasures.
Adults 500 yen, Junior and senior high school students 300 yen, Elementary school students 250 yen, Students on school excursion 200 yen, Handicapped 200 yen
Access

Subway Tozai Line
Near "Shiyakusho-mae" station

City bus/Kyoto bus
Near "Kawaramachi Sanjo" bus stop

Keihan
Get off at Sanjo Station and walk west for 5 minutes

Hankyu
Get off at Kawaramachi Station and walk north for 10 minutes

Car
・From Tokyo
 Exit at the Kyoto Higashi IC of the Meishin Expressway and drive toward Kawaramachi from Route 1.

・From Osaka/Kobe area
 Exit at the Kyoto Minami No. 2 IC of the Meishin Expressway and drive toward Kawaramachi from National Route 1.

Parking lot
Parking: 20 cars, height: 2.7m or less, 200 yen per 30 minutes
Parking is allowed for microbuses and up to 2-ton trucks.
Site URL
https://www.kyoto-honnouji.jp/language.html
Recommended places to visit in conjunction with

The Kyoto Imperial Palace is called "Gosho" by the neighboring residents and is popular. From the 14th century to the early Meiji period, this is the place where successive emperors lived, priest rituals and public service.

Nijo Castle is a castle that was built in the Edo period, and the one that remains now is the one erected by Mr. Tokugawa. It is the beginning and end of the Edo period, with the celebratory ceremony of Ieyasu Tokugawa's Shogun Senge, and the Yoshinobu Tokugawa of restoration rule of the Tokugawa Imperial.

Nanzen Temple is the head temple of the Rinzai Nanzen sect. In 1291, Kameyamahouou founded Nanzen temple greeted Mukanfumonzenshi (Daimyokokushi).