About Bukkoji Temple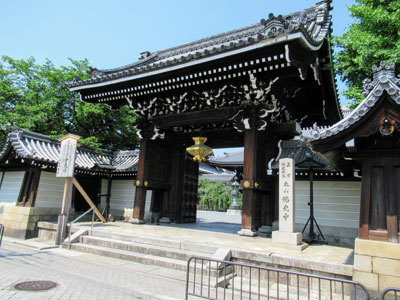 Bukkoji Temple is a temple of Shinshu Bukkoji Temple school located in Kyoto City Shimogyo district. It is said that it had momentum that surpassed Honganji Temple of Jodo Shinshu by far when its teramoto was Kyoto Shibutani.
However, when its 14th Buddhist priest Kyogo devoted to Rennyo later, built the temple called "Kosho-ji Temple" in Yamashina Nishino and changed its sect to Hongwanji bringing 42 priests out of 48 priests of influential Sueji Temple of the Bukkoji School the momentum of Bukkoji declined rapidly and Honganji Temple rose instead.
The looking of the temple resembles in the western and eastern Honganji Temple, we can see this is the temple same as Jodo Shinshu temples. There is nothing ready for the target for sightseeing and it looks like a temple for religious purpose purely. There were second to no tourists.
adsense2
Bukkoji Temple photos
▼Press any thumbnail, and you can see the photo gallery.
▼Tap any thumbnail, and you can see the photo gallery.
Photographer: Taisuke Yamada
Details
Loaction
〒600-8084 397 Shinkaicho, Takakura-dori-Bukkoji-kudaru, Shimogyo-ku, Kyoto City, Kyoto Prefecture, Japan

Telephone
TEL:075-341-3321
Entrance fee
free
Access
2 minutes walk from Exit 5 of Subway Shijo Station.
5 minutes walk from exit 15 of Hankyu Karasuma Station.
Parking lot
None
Site URL
https://www.bukkoji.or.jp/
Recommended places to visit in conjunction with

The official name of Rokkakudo is Shiyunsan Chōhō-ji Temple, a monolithic temple of the Tendai lineage. Because of the hexagonal shape of the main hall, it has been known and loved as "Rokkakudo" since long ago.

Higashi Hongan-ji temple is the head temple of the Jodo-Shin Otani sect, and is a temple with a strong faith color unlike the so-called sightseeing temples in Kyoto.

Nishi Hongan-ji temple is simply referred to as the Honganji temple, and is the Honzan of Jodo Shinshu Hongan-ji Temple sect. Nishi Honganji is a common name, the official name is Ryukoku mountain Hongan-ji.