About Rokkakudo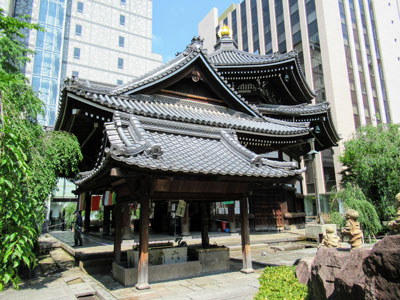 The official name of Rokkakudo is Shiyunsan Chōhō-ji Temple, a monolithic temple of the Tendai lineage.
It has long been known and loved as "Rokkakudo" because of the hexagonal shape of the main hall.
It is said to have been founded by Prince Shotoku in the 2nd year of Emperor Yomei (587), and the main statue of Nyoirin Kannon (Goddess of Mercy) has been worshipped by many people. The temple is also known as the birthplace of ikebana, the art of flower arrangement, with Ikenobo, the head of the Iemoto school of flower arrangement, serving as its abbot.
Rokkakudo is an oasis-like temple in the middle of a skyscraper district, and the interesting shape of the main hall and the Jizo statue are aesthetically pleasing to tourists.
adsense2
Rokkakudo photos
▼Press any thumbnail, and you can see the photo gallery.
▼Tap any thumbnail, and you can see the photo gallery.
Photographer: Taisuke Yamada
Details
Location
〒604-8134 Donomae-cho, Rokkaku-dori-Higashinotoin-Nishiiru, Nakagyo-ku, Kyoto-City

Telephone
TEL:075-221-2686
Entrance fee
free(free in the precincts)
Access
3 min. walk from Exit 5 of Karasuma-Oike Station on the Kyoto Municipal Subway.
5-minute walk from Exit 21 of Karasuma Station on the Hankyu Kyoto Line.
Parking lot
Fee
Site URL
https://www.ikenobo.jp/rokkakudo/
Recommended places to visit in conjunction with

Mikane Shrine is a small shrine with a golden torii gate located in Nakagyo-ku, Kyoto. Many people visit the shrine to pray for good fortune.

Known affectionately as "Nishiki no Tenjin-san" by the locals, Nishiki Tenmangu Shrine is dedicated to Sugawara Michizane, known as the god of learning, as its main deity.

Honnoji is a temple of Nichiren Buddhism, southwest of Kawaramachi Oike in Nakagyo ward, Kyoto. This temple is very famous in Honnoji incident that Mitsuhide Akechi avenge Nobunaga Oda.