About Zuishinin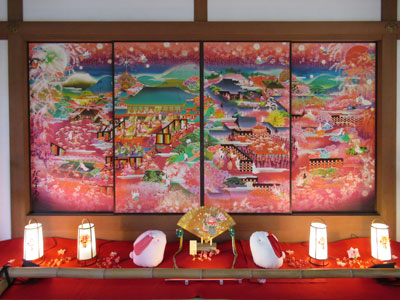 Zuishinin is a temple of the temple of Shingon Zentsu Temple sect in Ono, Yamashina Ward, Kyoto City. Ninkai Monseigneur, who is a disciple of the eighth generation from Kobodaishi, is founder, and he petitioned to the emperor in 991, which is the age of the Ichijo emperor, then he was given this place and built one temple.
It is known as a temple related to Onono Komachi, and there is a stone monument of Onono Komachi in the grounds. There is a plum garden called Ono Plum Garden in the precinct. It was regrettable that the plum was not in full bloom when i was taking a picture, but it will be beautiful in full bloom.
On March 26, there will be a festival called "Hanezu-odori and Imasama". "Hanezu" is a archaic word which rosy color, and the Koubai of the Sui Heart Academy has been called "Hanezu" from ancient times and has been popular. In this "Hanezu-odori and Imasama", beautiful girls who wore the Hanezu colored costume and the tube hat show off the Warabe song and the dance in the table stage of the precincts, and reproduce the love of Onono and Fukakusa General.
In addition, the foliage is from the middle of November. The Ono Festival will be held from mid-November to early December (depending on the year). At the same time, it is lit up at night, so that visitors can enjoy the foliage.
adsense2
Zuishinin photos
▼Press any thumbnail, and you can see the photo gallery.
▼Tap any thumbnail, and you can see the photo gallery.
Photographer: Taisuke Yamada
Details
Location
〒607-8257
35 Ono-Goryo-cho, Yamashina-ku, Kyoto-shi, Kyoto

Telephone
TEL 075-571-0025
FAX 075-572-3690
E-mail
info@zuishinin.or.jp
Entrance fee
[Main Hall Entrance Fee]
500 yen
[Plum Garden Admission Fee]
500 yen
Access

5-minute walk from Ono Station on the Subway Tozai Line

Car
10 minutes from Kyoto Higashi IC
Approximately 5 minutes from Yamashina Exit on Hanshin Expressway Route 8 Kyoto Line

Parking lot
Yes (free of charge)
Large car parking possibility
Site URL
http://www.zuishinin.or.jp/
Recommended places to visit in conjunction with

Daigoji is a temple of the Shingon Daigo head in Daigo, Fushimi-ku, Kyoto City. The principal of the temple is the Yakushi Buddha, and the founder is Rigentaishi Shobo. It is registered as a cultural property of the old Town Kyoto as a World heritage site.

The Bishamon temple in Yamashina ward, Kyoto City is a temple of Tendai sect. Bishamondo is one of Tendai sect Kyoto five gate traces and is also called Bishamondomonzeki. The Izumo Temple of Bishamondo's predecessor is said that Gyoki founded in 703.

If you go from Kyoto City to the east of Sanjo Street, there is an intersection with the slope which continues to Shogunzuka. If you climb the road for a while, you will reach Shogunzuka.