About Daigoji Temple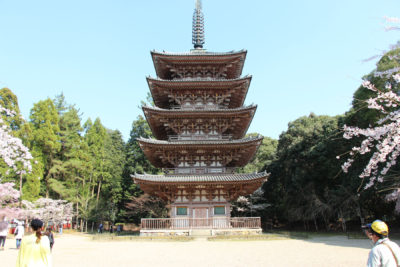 Daigoji is a temple of the Shingon Daigo head in Daigo, Fushimi-ku, Kyoto City. The principal of the temple is the Yakushi Buddha, and the founder is Rigentaishi Shobo. It is registered as a cultural property of the old Town Kyoto as a World heritage site.
Rigentaishi Shobo founded the Daigoji in 874 with Cundi and Cintamani-cakra atop the Mt.Kasadori.
Near Daigoji was devastated by the War of Onin, however Hideyoshi Toyotomi held the "Hanami of Daigo", the near Daigoji was revived in the wake of it, it became the current figure.
This time, I went to Daigoji to shoot at the time of the cherry blossom hotseat. I walked to Daigoji, but the distance from the subway Tozai line Daigo station was far more than I expected, so I was very tired. I regret that I should have used the bus here. There were a lot of tourists in the precincts, and everyone was strolling in their own way.
It was a five-storied pagoda that was especially eye-catching in the Daigoji. There is a feeling of faded a little of the building, but the tower which carries out the heaven is splendid very much. In addition, I came to sanpo-in, but the garden here seems to be a garden where Hideyoshi Toyotomi made a basic design by himself when "Hanami of Daigo", it is a Japanese garden with a wonderful atmosphere that looks like the Momoyama period.
adsense2
Daigoji Temple photos
▼Press any thumbnail, and you can see the photo gallery.
▼Tap any thumbnail, and you can see the photo gallery.
Photographer: Taisuke Yamada
Details
Location
〒601-1325
22 Daigo Higashioji-cho, Fushimi-ku, Kyoto-shi, Kyoto

Telephone
TEL 075-571-0002
FAX 075-571-0101
Entrance fee

※Sanpoin, Reihokan and Garan [Regular Season]
Adults 800 yen, Junior and senior high school students 600 yen, Free for elementary school students and younger

※Sanpoin, Reihokan and Garan [Spring and Autumn]
Adults 1,500 yen, Junior and senior high school students 1,000 yen, Free for elementary school students and under

Usual viewing season
Cherry(1,000 trees)
Early April
Access

City subway
Get off at Daigo Station on the Tozai Line

Keihan Bus, Yamashina Express
Get off at "Daigoji Temple"

Keihan bus
Take the 22 or 22A line and get off at Daigoji-mae bus stop.

Parking lot
For 100 private cars: 1,000 yen in spring and fall, 500 yen in other seasons
※2,000 yen depending on vehicle height
Site URL
https://www.daigoji.or.jp/index_e.html
Recommended places to visit in conjunction with

The Bishamon temple in Yamashina ward, Kyoto City is a temple of Tendai sect. Bishamondo is one of Tendai sect Kyoto five gate traces and is also called Bishamondomonzeki. The Izumo Temple of Bishamondo's predecessor is said that Gyoki founded in 703.

Byodo-in is a deeply related temple with Mr. Fujiwara in Uji City, Kyoto Prefecture. Since the 17th century, sects combined as Tendai Buddhism and Jodo sect, and now they do not belong to a specific denomination.