About Bishamon-do Temple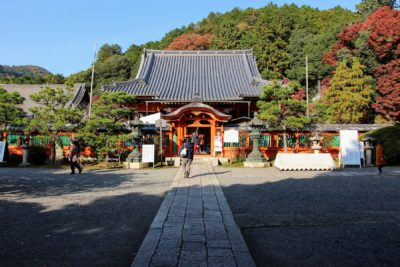 The Bishamon-do Temple in Yamashina ward, Kyoto City is a temple of Tendai sect. Bishamondo is one of Tendai sect Kyoto five gate traces and is also called Bishamondomonzeki. The Izumo Temple of Bishamondo's predecessor is said that Gyoki founded in 703.
Bishamon-do Temple is a little bit in the mountains, when you go through the approach, the foliage is dotted on both sides of the road, which arouses the anticipation of the main temple. And, the slope of the approach near the entrance is dyed like a red carpet by the autumn leaves when the autumn leaves bloom, and you can see beautiful appearance coupled with the surrounding foliage.
The temple itself has become a kind of building where Buddha-transmitting temples and shrines are mixed together, and I'm a little lost in how I can pray. In addition, the Japan garden of the inside is a pay admission fee, but I returned without seeing it because it had shifted slightly with the season of the autumnal leaves this time, and it is a place where I want to see by all means if autumn leaves season.
adsense2
Bishamon-do Temple photos
▼Press any thumbnail, and you can see the photo gallery.
▼Tap any thumbnail, and you can see the photo gallery.
Photographer: Taisuke Yamada
Details
Location
〒607-8003
18, Azu Inariyama-cho, Yamashina-ku, Kyoto-shi, Kyoto

Telephone
TEL 075-581-0328
FAX 075-581-0328
Entrance fee
Adults 500 yen, High school students 400 yen, Junior high school students 300 yen, Elementary school students 300 yen, Children under elementary school age free
Usual viewing season
Red leaves
Late November – Early December
Access

JR
Approx. 20 minutes walk from Yamashina Station

Subway
Approx. 20 minutes walk from Yamashina Station

Keihan
Approx. 20 minutes walk from Yamashina Station

Car
Meishin Expressway, exit at Kyoto Higashi I.C. and turn north from the old Sanjo Street in front of Yamashina Station.

Parking lot
No large buses, microbuses allowed Free
Own car 20 units minutes No charge
※All are limited to visitors.
Site URL
http://www.bishamon.or.jp/
Recommended places to visit in conjunction with

Daigoji is a temple of the Shingon Daigo head in Daigo, Fushimi-ku, Kyoto City. The principal of the temple is the Yakushi Buddha, and the founder is Rigentaishi Shobo. It is registered as a cultural property of the old Town Kyoto as a World heritage site.

If you go from Kyoto City to the east of Sanjo Street, there is an intersection with the slope which continues to Shogunzuka. If you climb the road for a while, you will reach Shogunzuka.