About Shogunzuka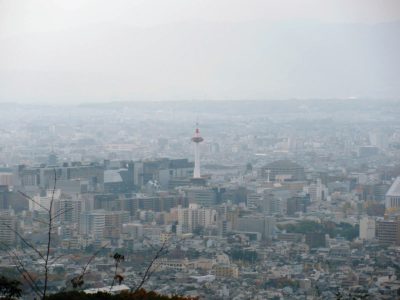 If you go from Kyoto City to the east of Sanjo Street, there is an intersection with the slope which continues to Shogunzuka (Higashiyamasanchou Park). If you climb the road for a while, you will reach Shogunzuka. (Currently motorcycle is not allowed to enter.)
Shogunzuka is a great night view spot in Kyoto and is famous for a lot of couples. There is a large free parking lot on site. When I went to take pictures of the photos posted here, I could not take pictures clearly because it was a little hazy in the city, but I think I was able to see more clearly when it was fine weather. It is a place that seems to be good to bring a tripod and take a night view. On New Year's Eve, the road is congested with cars coming to see the first sunrise, and so I think that it is good to go to see aiming at the day when it seems to be vacant.
Moreover, it is not known much, but it is possible to see a beautiful scarlet maple in the neighboring Shogunzuka Dainichido (There is a charge.) when it becomes late autumn.
adsense2
Shogunzuka photos
▼Press any thumbnail, and you can see the photo gallery.
▼Tap any thumbnail, and you can see the photo gallery.
Photographer: Taisuke Yamada
Details
Location
〒607-8456
28, Zushi okukacho-cho, Yamashina-ku, Kyoto-shi, Kyoto, Japan

Telephone
075-771-0390
Entrance fee
Free
Access
From the top of Higashiyama Driveway leading to Gojo Dori from Sanjo Dori Keage to Shogunzuka
※Motorcycles are not allowed
Parking lot
40 cars free of charge
Recommended places to visit in conjunction with

Kiyomizu-dera Temple is a temple with an old history from the time when the capital moved to Heian Kyo, just like Koryu temple and Kurama temple, Kyoto is also a famous tourist destination, alongside the temple of Kinkakuji and Arashiyama.

The Bishamon temple in Yamashina ward, Kyoto City is a temple of Tendai sect. Bishamondo is one of Tendai sect Kyoto five gate traces and is also called Bishamondomonzeki. The Izumo Temple of Bishamondo's predecessor is said that Gyoki founded in 703.