About Kiyomizu-dera Temple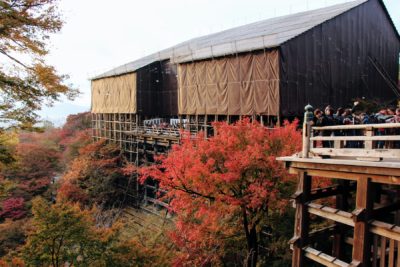 Kiyomizu-dera Temple is a temple with an old history from the time when the capital moved to Heian Kyo, just like Koryu temple and Kurama temple, Kyoto is also a famous tourist destination, alongside the temple of Kinkakuji and Arashiyama. The Kiyomizu-dera Temple is also registered as a cultural asset of the ancient capital of Kyoto, UNESCO World Heritage Site.
The slope from Higashioji Street to Kiyomizu-dera Temple is called Kiyomizu Road, and there are many souvenir shops for tourists. In addition, the Gojo slope in the south is a pilgrimage road, and the shop of pottery Kiyomizu-yaki is lined up.
Kiyomizu-dera Temple is built on Mt.Kiyomizu Mountain (Mt.Otowa) at an altitude of 242 meters, the view of Kyoto city from the huge main hall on the slopes is very beautiful. There is a height of about 12 meters like as the metaphor of "jump off the stage of Shimizu". ( Of course, don't really jump. ) It would be nice to have a sunny day with scenic views if possible to visit Kiyomizu-dera Temple.
This is a famous cherry blossom place (about 1000 total of Someiyoshino and Yamazakura), and you can also enjoy lighting up at night. At the same time, it is known as a spot of autumnal leaves (about 1000), and this time I took pictures of the Kiyomizu-dera Temple of the autumnal leaves. The scenery of the autumnal leaves in Kyoto Higashiyama was very tasteful. This is also lit up at night every year.
The Kiyomizu-dera Temple of the tourist season is swarmed with a large number of tourists, so you need to be prepared to some extent. If you are not good at crowds, please enjoy the photo gallery of this site.
The giant tree which supports the stage of Shimizu is grown in the forest such as Hanase, Sakyo-ku, Kyoto City now though it is a back story of Kiyomizu-dera Temple, it seems that they are brought up in preparation for 400 years after the lifespan of the stage of Kiyomizu-dera Temple now.
adsense2
Kiyomizu-dera Temple photos
▼Press any thumbnail, and you can see the photo gallery.
▼Tap any thumbnail, and you can see the photo gallery.
Photographer: Taisuke Yamada
Details
Location
〒605-0862
1-294, Kiyomizu 1-chome, Higashiyama-ku, Kyoto-shi, Kyoto

Telephone
TEL 075-551-1234
FAX 075-551-1287
Entrance fee
Main hall and stage: High school students and older, 400 yen; elementary and junior high school students, 200 yen; no group discounts
Usual viewing season

Cherry(approx. 1,000 trees)
Late March – Early April
※Night light-up available

紅葉
Late November – Early December
※Night light-up available

Access

City bus
Get off at "Gojosaka" on the No.206 or 100 and walk for 10 minutes.
Get off at "Shimizu-do" on the No.207 and walk for 10 minutes.

Kyoto bus
Take No. 18 (available only on weekends and holidays), get off at Gojozaka bus stop, and walk 10 minutes.

Keihan bus
Take the 83, 85, 87, 88, etc. train to "Kiyomizu-michi" or "Gojozaka" and walk 10 minutes.

Keihan Electric Railway
Approximately 25 minutes on foot from "Kiyomizu Gojo Station

Parking lot
None. Please use nearby toll parking lots.
Site URL
https://www.kiyomizudera.or.jp/en/
Recommended places to visit in conjunction with

Yasaka Shrine is a shrine in Gion-machi, Higashiyama-ku, Kyoto, and is said to have been erected in 656, and is also known as the Yamabokojunko endpoint of Gion festival.

If you go to the back of Gion Yasaka Shrine, there is Maruyama park. The Maruyama park is adjacent to the Yasaka Shrine, Kodai Temple and Chion Temple, and it would be fun to look around together.

Chionin is a temple with a very large Sanmon and Mikagedo of Jodo head in Higashiyama-ku, Kyoto. Chionin officially called the Kachozan Chionkyoin Otani Temple, and at the foot there is a Kacho junior college.