About Yasaka Shrine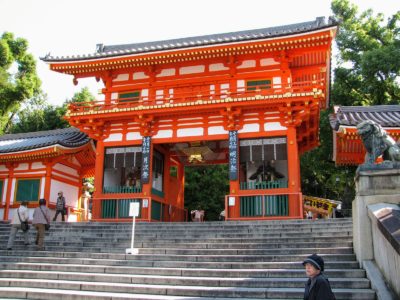 Yasaka Shrine is a shrine in Gion-machi, Higashiyama-ku, Kyoto, and is said to have been erected in 656, and is also known as the Yamabokojunko endpoint of Gion festival.
Yasaka Shrine is a famous shrine in Kyoto Prefecture, where the second visit to the Fushimi Inari Shrine is gathered. On New Year's Eve, Shijo Dori becomes a pedestrian paradise and is swarmed with visitors to the Yasaka shrine. In Setsubun, Maiko and Geiko are scattered beans from Noh stage in the precincts.
Because there is a famous Maruyama park with cherry blossoms at the back of the site, and it is in contact with Chion, I think that it is good to see this region collectively.
adsense2
Yasaka Shrine photos
▼Press any thumbnail, and you can see the photo gallery.
▼Tap any thumbnail, and you can see the photo gallery.
Photographer: Taisuke Yamada
Details
Location
〒605-0073
625 North side, Gion-cho, Higashiyama-ku, Kyoto-shi, Kyoto

Telephone
TEL 075-561-6155
FAX 075-531-1126
Entrance fee
Free
Usual viewing season
Red leaves
Mid November – Early December
Access

Keihan
5 minutes walk from Gion-Shijo Station

Hankyu
8 minutes walk from Kawaramachi Station

JR
・Approximately 15 minutes by car from "Kyoto Station".
・Take the 206 city bus from Kyoto Station and get off at "Gion" bus stop.

Parking lot
50 spaces for private cars (1 hour free for those who pray)
Site URL
https://www.yasaka-jinja.or.jp/en/
Recommended places to visit in conjunction with

If you go to the back of Gion Yasaka Shrine, there is Maruyama park. The Maruyama park is adjacent to the Yasaka Shrine, Kodai Temple and Chion Temple, and it would be fun to look around together.

Chionin is a temple with a very large Sanmon and Mikagedo of Jodo head in Higashiyama-ku, Kyoto. Chionin officially called the Kachozan Chionkyoin Otani Temple, and at the foot there is a Kacho junior college.

Kodai Temple is a temple of the Rinzai Kenninji sect in Higashiyama-ku, Kyoto, and Hideyoshi Toyotomi's wife Kitanomandokoro (Nene) erected this temple to pray for the souls of Hideyoshi.