About Myokenji Temple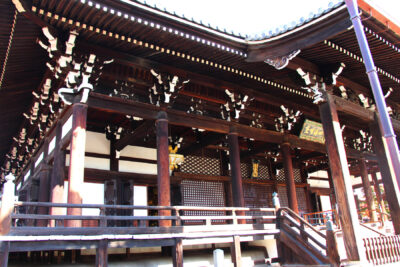 Myokenji that is located on Kamigyo district in Kyoto city, which is named "Gusokusan myokenji is the first temple of Nichiren sect in Kyoto that was built at a later stage of Kamakura era. It was built by Ryugejuinnichizou holy priest, who is a grand disciple of Nichiren holy priest, who began the Nichiren sect. It is said that it was at Imakouji in Omiya street when it was built first.
As the points to see in Myokenji, there are four gardens, which is called as the garden of Sikaishoudo, the Tuboiwa of bamboos, the garden of Kourinkyoksui, the garden of five-color camellia and Pine respectively. Each has different taste, which make viewers fun.
It was holding an event called art museum in entire Myokenji and I could enjoy various art works of " Japan ". Among them were the graduation work by students of Traditional Arts School of Kyoto. It is very reliable that there are some bearers for the traditional arts of next age.
Also, there is very respectable Mr. Gohonzon inside the large main hall, but there was no picture as I wasn't given permission to take photos of it.
Please make caution as you can't get to Myokenji unless you come from Nishi no Horikawa Street due to one-way when you drive or ride on a motorbike.
adsense2
Myokenji Temple photos
▼Press any thumbnail, and you can see the photo gallery.
▼Tap any thumbnail, and you can see the photo gallery.
Photographer: Taisuke Yamada
adsense2
Details
Location
〒602-0005
514 Myokenji-mae-cho, Teranouchi-dori Shinmachi Nishi-iru, Kamigyo-ku, Kyoto-shi, Kyoto

Telephone
TEL 075-414-0808
Entrance fee
General 500 yen, Free for elementary school students and under
Usual viewing season
red leaves
Mid-November~early December
Access

City Subway Karasuma Line
10 minutes walk from Kuramaguchi Station
15 minutes walk from Imadegawa Station

Kyoto City Bus
No. 9, 12, 67
Get off at "Horikawa Teranouchi" bus stop. 5 minutes walk.

Parking lot
Parking for 15 cars (coin parking)
Free bicycle parking available
Site URL
https://shikaishodo-myokenji.org/
Recommended places to visit in conjunction with

Kenkun Shrine (Takeisaojinja) is a somewhat smaller shrine on the Funaoka mountainside, Kita-ku, Kyoto. It is a shrine that is enshrined Oda Nobunaga. In general, it is called "Kenkunjinja".

The Kyoto Imperial Palace is called "Gosho" by the neighboring residents and is popular. From the 14th century to the early Meiji period, this is the place where successive emperors lived, priest rituals and public service.

Nashinoki Shrine is a shrine in Kamigyo-ku, Kyoto. The beginning of it's history was built in 1885 in the ruins of the house of the Sanjo family.