About Mibudera Temple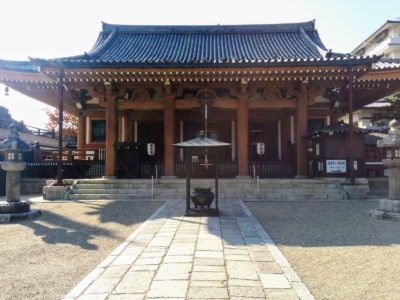 Mibudera Temple is a disciplinary Daihonzan Buddhist temple in Nakagyo-ku, Kyoto. Mibudera Temple is known as a temple which conveys "Dainenbutsu Kyogen" that "Enkaku Jonin" of "Yuzu Nenbutsu" started, and it is also known as a temple with a history of Shinsengumi.
At the end of the Edo period, the Shinsengumi which was active for the purpose of maintaining the security of Kyoto, was located in the Yagi house in Mibu Village. It is said that the precincts of the Mibudera Temple were used in the Chorenba of Shinsen-gumi, and that training was performed such as Martial. In that relationship, there is a statue of Isamu Kondo and the Tomb of the Shinsengumi Brigade, the Mibu mound.
Mibudera Temple is free to visit. (excluding some exhibition rooms)
adsense2
Mibudera Temple photos
▼Press any thumbnail, and you can see the photo gallery.
▼Tap any thumbnail, and you can see the photo gallery.
Photographer: Taisuke Yamada
Details
Location
〒604-8821
31 Mibu-Nashinomiya-cho, Nakagyo-ku, Kyoto-shi, Kyoto

Telephone
TEL 075-841-3381
FAX 075-841-4481
Entrance fee
Free
※Mibudera Historical Museum is chargeable
Adults 200 yen, elementary, junior high, and high school students 100 yen (includes Mibu-zuka visit fee)
Best time to see
Mibu kyogen
[Setsubun Open to the Public] February 2 and 3, both days, every hour and 0 minutes from 1:00 p.m. to 8:00 p.m.
[Spring Open to the Public] 7 days from April 29 to May 5
[Open to the public in the fall] Three days for consecutive holidays in October
※Please refer to the following URL for details.
http://www.mibudera.com/Gyoji.html#googtrans(ja|en)
Access

City bus
Get off at "Mibuderamichi" and walk 200m south on Bojo Street.

Hankyu
Get off at "Omiya" station and walk about 10 minutes.

Keifuku Electric Railway (Randen)
10 minutes walk from "Shijo-Omiya" station.

Parking lot
Coin parking lot (8 spaces)
Site URL
http://www.mibudera.com/#googtrans(ja|en)
Recommended places to visit in conjunction with

Shinsenen is a temple of Toji Shingon in Nakagyo-ku, Kyoto. It is located on the south side of Nijo Street from Nijo Castle. The original was a garden for the emperor who was built adjacent to Heian-Kyo Daidairi.

Nijo Castle is a castle that was built in the Edo period, and the one that remains now is the one erected by Mr. Tokugawa. It is the beginning and end of the Edo period, with the celebratory ceremony of Ieyasu Tokugawa's Shogun Senge, and the Yoshinobu Tokugawa of restoration rule of the Tokugawa Imperial.

Nishi Hongan-ji temple is simply referred to as the Honganji temple, and is the Honzan of Jodo Shinshu Hongan-ji Temple sect. Nishi Honganji is a common name, the official name is Ryukoku mountain Hongan-ji.